December 05, 2011 -
Matt Bowen
Handing out the Week 13 Sunday game balls
Let's go around the league and hand out some game balls. Five players that stood out from my perspective in the Week 13 Sunday NFL schedule.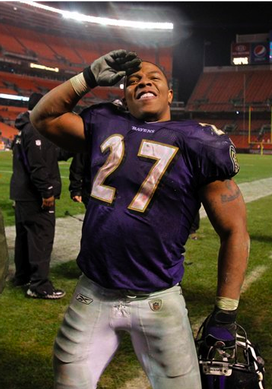 Rice rushed for 204-yards in the Ravens' 24-10 win over the Browns.
Ray Rice, Ravens: The Baltimore RB carried the ball 29 times for 204-yards and a TD in the Ravens 24-10 win over the Browns in Cleveland. What else can we say? Put the ball in the hands of your feature back and let him go to work—especially in December.
Demaryius Thomas, Broncos: Look at the numbers from Denver's WR in the 35-32 OT win over the Vikings: 4 receptions, 144-yards and 2 TDs. That's good for an average of 36-yards per catch. Not bad for an option offense with Tim Tebow at QB.
Aaron Rodgers, Packers: The 4 TD passes (and 300-plus yards) are almost a constant with the Packers' QB, but what should stand out is the final drive on a day when the Green Bay offense wasn't perfect in their execution. Rodgers moved the ball down the field with three passes (out, fade, option) and set up the game winning FG. And it looked easy.
Wes Welker, Patriots: I could throw Rob Gronkowski in here (along with Tom Brady), but when you catch 11 passes (on 11 targets) for 114-yards in the Patriots' offense system, you are getting open consistently. Hard not to throw New England in the mix with Green Bay and New Orleans when we break down the best offensive playbooks in the NFL.
Cam Newton, Panthers: Carolina's rookie QB threw for 200-plus and a TD and also ran for 3 scores (breaking the NFL record for rushing TDs by a QB) in the Panthers' win over the Bucs. The QB continues to be a game plan issue for defensive coordinators.
Follow me on Twitter: @MattBowen41