December 19, 2011 -
Matt Bowen
Handing out the Week 15 NFL game balls
Let's go back and hand out some game balls from the Sunday NFL schedule. Here are the names that make my list…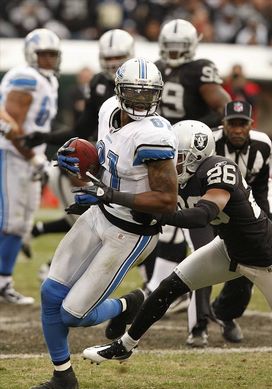 ICONJohnson and Stafford put together a 98-yard drive to beat the Raiders.
Matthew Stafford and Calvin Johnson, Lions: After going 98-yards in the final minutes to beat the Raiders on the road, it was easy for me to put both Stafford and Johnson at the top of the list. The Lions' QB throws for 391-yards and 4 TDs while Johnson posted 214-yards (on 9 receptions) to go along with two TDs.
Drew Brees, Saints: Maybe it is time to put Brees (along with Brady) into the MVP discussion with Green Bay's Aaron Rodgers. The Saints' QB lights up the Vikings secondary, throwing for 412-yards (on 32 of 40 passing) with 5 TDs. And now Brees is only 304-yards shy of breaking Dan Marino's all-time single season passing record.
Romeo Crennel, Chiefs: When you knock off the previously undefeated Packers as an "interim" head coach you are putting together the right game plan. The type of win that should have the Chiefs' brass thinking about Crennel as the K.C. head coach in 2012. Impressive win.
Tom Brady, Patriots: Brady threw for 320-yards and 2 TDs, but it was his second half numbers (11-13-149-yards) that put to bed any talk of another Tim Tebow comeback. The Patriots roll over the Broncos 41-23.
Reggie Bush, Dolphins: I like seeing guys play hard in December even when they are clearly out of the playoff picture. That's what we got from Bush yesterday in Dolphins win over the Bills in Orchard Park. The Miami RB rushes for a career high 203-yards.
Follow me on Twitter: @MattBowen41