September 19, 2011 -
Matt Bowen
Handing out the Week 2 Sunday game balls
Let's take a look back at the Week 2 Sunday schedule in the NFL and hand out some game balls. Who stood out and made plays? Here are five on my list…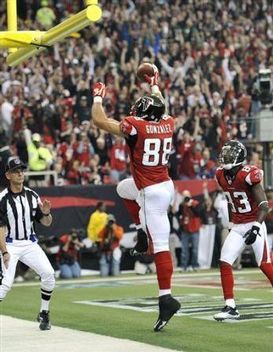 Gonzalez produced two TDs last night in the Falcons win over the Eagles.
Tony Gonzalez, Falcons: Picked up seven receptions for 83-yards in the win over the Eagles, but it is the TE's red zone production that stands out. Two TDs on the night and a true weapon inside of the 20-yard line for this Atlanta offense. Might be the best route runner at the position in the NFL.
Matt Hasselbeck, Titans: Could hand out a game ball to the Titans' O-Line here also (didn't allow a sack vs. Baltimore), but I'm giving it to Hasselbeck after he threw for 358-yards in the win over the Ravens. That is big production vs. a defensive that I consider to be a top-five unit in the NFL.
Charles Woodson, Packers: No question the Packers' defense has to some adjustments to make in the secondary, but give the game ball to Woodson after he picks off two Cam Newton passes and recovers a fumble. He is always around the football and is still one of the top defensive playmakers in the NFL.
Tony Romo, Cowboys: That is the type of late game production you expect from a pro QB. We didn't see it in the Week 1 loss to the Jets, but Romo made the plays yesterday—with a rib injury—in the comeback win on the road in San Francisco. 345-yards, 2 TDs, and the big play in OT to set up the winning field goal.
The Detroit Lions: Give a game ball to the entire team. I understand that Kansas City is playing an awful brand of football right now, but if you win a game in this league by 45 points, that is saying something. Too early to jump on the Detroit bandwagon? A lot of talent there.
Follow me on Twitter: MattBowen41