September 26, 2011 -
Matt Bowen
Handing out the Week 3 Sunday game balls
Let's go around the league and hand out some game balls after the Week 3 Sunday NFL action. Five players that stood out from my perspective.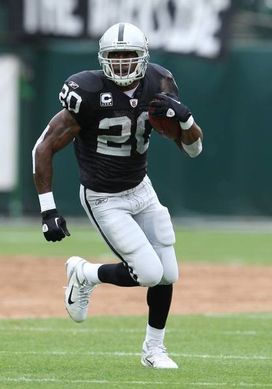 ICONMcFadden produced 171-yards and 2 TDs vs. Rex Ryan's Jets on Sunday.
Darren McFadden, Raiders: Oakland looked and played like the more physical football team in the 34-24 win over Rex Ryan's Jets. And when you get this type of production from the running back position, you can play with anyone. 171- yards and 2 TDs for the McFadden.
Jermichael Finley, Packers: Three TDs in the red zone for the Packers' TE. Went to work vs. Bears' safety Brandon Meriweather in Cover 1 and caught two from Aaron Rodgers against Lovie Smith's Cover 2 scheme. Chicago didn't have an answer for the TE as they were rolled again by the Pack.
Eli Manning, Giants: No question the Giants were the better football team yesterday in the win over the Eagles and it starts with Manning. Threw four TDs on the road (after a shaky performance last Monday night) vs. the Philly secondary. He had complete control of the Giants' offense.
Bills' secondary: Should give a game ball out to the entire crowd at Ralph Wilson Stadium after beating the Patriots for the first time since the '03 season, but we need to talk about the Bills' DBs. Created four interceptions vs. the NFL's top player at the QB position in Tom Brady. I never saw that coming.
Torrey Smith, Ravens: 152-yards and 3 TDs for the rookie WR—on five receptions. What was the talk on Smith coming out of Maryland? Vertical speed. We saw plenty of that yesterday as the Ravens' WR burst onto the NFL stage with some big time production.
Follow me on Twitter: MattBowen41