October 03, 2011 -
Matt Bowen
Handing out the Week 4 Sunday game balls
Let's go around the league and hand out some game balls after the Week 4 Sunday schedule. Here are five players that stood out from my perspective.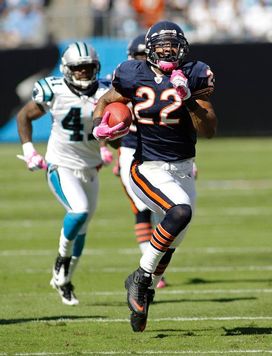 Forte rushed for a career high 205-yards in the Bears' win over the Panthers.
Matt Forte, Bears: Give some credit here to Mike Martz for simplifying the game plan and leading with the run game, but it is still Forte who put in the work. The Bears' RB finished with a career high 205-yards and a TD on 25 carries. He looked "elite" on Sunday. The only other Chicago RBs to top 200-yards in a game? Gale Sayers and Walter Payton.
Aaron Rodgers, Packers: What else can we say about the Packers' QB? Rodgers was efficient in the red zone, threw the vertical route tree and filled up the box score. Six total TDs (4 pass, 2 rush) to go along with 408-yards passing on the day as the Packers keep on rolling.
Arian Foster, Texans: Houston played like a different ball club after winning consistently up front vs. the Steelers. And when Foster gets room to run, he will put up numbers. The Texans' RB rushed for 155-yards and a TD on 30 carries vs. Pittsburgh.
Calvin Johnson, Lions: Can we give "Megatron" a game ball every week? That's two more TD receptions (giving him eight on the year) in the comeback win down in Dallas. I wrote up some notes on Johnson after the game on Sunday, and with the Lions' WR it is pretty simple—let him go get the football. 96-yards on 8 catches for the NFL's top offensive weapon.
Wes Welker, Patriots: Don't forget about Welker in the Patriots offensive system, because all he does is produce. In the 31-19 road win over the Raiders, Welker pulls in 9 receptions for 158-yards and a score. An ideal route runner for the concepts in the New England playbook.
Follow me on Twitter: MattBowen41