October 10, 2011 -
Matt Bowen
Handing out the Week 5 Sunday game balls
Let's take a look around the league and hand out the Week 5 NFL games balls. Five players that stood out from my perspective on Sunday.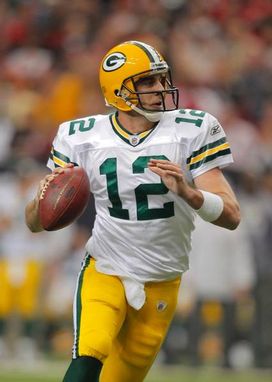 ICONRodgers threw for 396-yards behind a beat up O-Line in the win over Atlanta.
Aaron Rodgers, Packers: Rodgers is playing at an MVP level for the 5-0 Packers. The QB threw for 396-yards and 2 TDs (spreading the ball around to 12 different receivers) behind a beat up O-Line. He doesn't miss often and there isn't a defensive scheme he can't exploit right now.
Fred Jackson, Bills: All Jackson does is produce for the Bills in that offensive scheme. Runs for 111-yards and a TD plus catches six passes for 85-yards as the Bills move to 4-1 with a 31-24 win over Michael Vick and the Eagles. And after five weeks of the season, Jackson looks like one of the most complete football players in the league.
Ben Roethlisberger, Steelers: The Steelers needed a win on Sunday and Roethlisberger responded with 5 TD passes as Pittsburgh puts 38 points up on the Titans. That's big production from the QB position when the club has to get back on track.
Adrian Peterson, Vikings: When Peterson gets his pad level down and square to the line of scrimmage inside of the red zone, you don't stand a chance as DB. A.P. ran through rookie CB Patrick Peterson twice and racked up three total TDs and 122-yards as the Vikings get their first win of the season.
Ben Jarvis Green-Ellis, Patriots: Smart game plan from the Patriots to bring some balance to the offensive call sheet, and Green-Ellis responded with 136 yards and 2 TDs in the 30-21 win over Rex Ryan's Jets. New England pushed around this defense up front, created running lanes and wore down New York's front seven in the AFC East win.
Follow me on Twitter: MattBowen41