October 17, 2011 -
Matt Bowen
Handing out the Week 6 Sunday game balls
Let's go around the league and hand out some game balls from the Week 6 Sunday NFL schedule. Five players that stood out…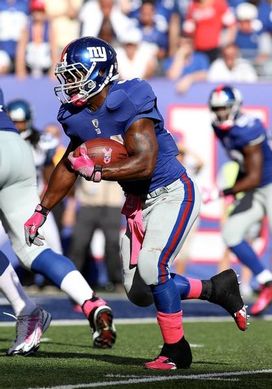 ICONBradshaw scored three TDs in the Giants' win over the Bills.
Ahmad Bradshaw, Giants: The Giants running back scored three TDs inside of the 5-yard line and produced over 100-yards on the ground. Big win for the Giants over a good Bills team that puts them alone in first place in the NFC East.
Tom Brady, Patriots: The New England QB didn't have his best numbers (27-41-289-2 TDs-2 INTs) vs. Rob Ryan's defense from Dallas, but when you lead a comeback drive to win the game, that's all that matters. Brady goes 8-9 for 78-yards on the winning drive with the TD to Aaron Hernandez. That's how you close out a game.
Frank Gore, 49ers: Niners' fans have been giving me heat for not talking up their squad on victory Mondays, but I can't ignore Gore after he rushed for 141-yards against a solid front-seven in Detroit. And Harbaugh's club is 5-1.
Devin Hester, Bears: The kick return was classic Hester. Break one arm tackle and go 98-yards for another TD. But don't forget about what he did in Martz's route schemes (5 receptions, 91-yards, 1 TD). Hester was a target for Cutler and beat the Vikings deep for a 48-yard score early off of play action.
LeSean McCoy, Eagles: Looked like a featured back in the west coast system in the 20-13 win over the Redskins at Fed Ex Field. The Eagles RB runs for 126-yards on 28 carries with a TD in a win Andy Reid had to get to save this season in Philly.
Follow me on Twitter: MattBowen41