October 24, 2011 -
Matt Bowen
Handing out the Week 7 Sunday game balls
Let's go around the league and hand out the Sunday game balls. Five players that stood out from my perspective from the Week 7 schedule.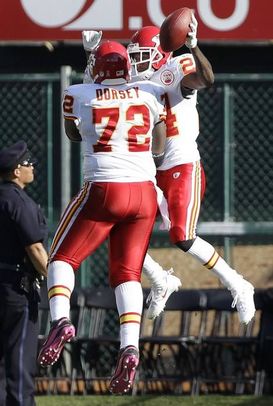 Flowers had two picks in the win over the Raiders and took one off Carson Palmer back 58-yards for a TD.
Brandon Flowers, Chiefs: The CB had two picks and returned one 58-yards for a TD vs. Carson Palmer. And if you haven't seen it, look up the highlight, because it is a great example of a CB reading through the 3-step drop and breaking on the football. Six total INTs for this Chiefs' defense in the 28-0 win over Oakland. Suddenly, Todd Haley's squad is back in the mix in the AFC West at 3-3.
Drew Brees, Saints: The numbers here from the Saints' QB are something to talk about: 31-35 for 335-yards and 5 TDs. Brees tore up the Colts Cover 2 and Cover 1 schemes and worked both Coltson and Graham in the red zone. 62 points? Could have been 70-plus for the Saints if Brees didn't put on a sideline hat in the 4th quarter vs. Indy.
DeMarco Murray, Cowboys: You think the rookie RB locked up the No.1 job in the Dallas backfield? Sets a franchise record with 253-yards, including a 91-yard TD that I broke down earlier today at the NFP. Those are rushing numbers we usually see on Friday nights in high school ball from triple option teams.
Arian Foster, Texans: 234-total yards and 3 TDs for the Texans' RB in a big AFC South matchup down in Nashville. Foster ran for 115-yards and 2 TDs while catching five passes for 119-yards and a TD as the Texans blasted the Titans to move to 4-3 on the season.
Aaron Rodgers, Packers: We could put Rodgers on this list every week. Look at the production from the Packers' QB vs. the Vikings: 24-30 for 335-yards and 3 TDs. The last time I saw an offense that could consistently score like this? When I was a rookie with Kurt Warner and the Rams during the 2000 season.
Follow me on Twitter: MattBowen41