October 31, 2011 -
Matt Bowen
Handing out the Week 8 Sunday game balls
Let's hand out some game balls from the Week 8 Sunday schedule in the NFL. Four players (and one defense) that stood out from my perspective...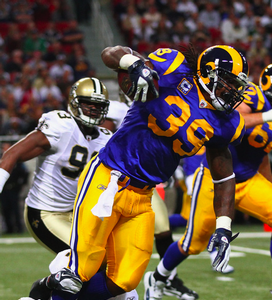 Jackson finished with 159-yards and 2 TDs in the Rams 31-21 win over the Saints.
Steven Jackson, Rams: We will get to the Rams' pass rush, but let's start with Jackson. The St. Louis RB posted 159-yards, ran for two scores and consistently worked over the Saints' front seven. Impressive day from the veteran in the Rams' first win of the season.
LeSean McCoy, Eagles: Did anyone expect the Eagles to lead with the run game vs. the Cowboys' defense? Give credit here to the Philly game plan (and the play calling), but the game ball goes to McCoy after he rushes for 185- yards and 2 TDs on 30 carries. That's a big number.
Chris Long, Rams: I talked about it on Sunday, because there is no question the front four of the Rams impacted the Saints' game plan by getting to QB Drew Brees. Long totaled three sacks and St. Louis recorded six as a defense in the 31-21 upset win over New Orleans at home. Hard to work the ball down the field when the QB is on the ground.
Ben Roethlisberger, Steelers: I could throw Dick LeBeau's defense (and LaMarr Woodley) into the mix here, but let's stick with Roethlisberger. The Steelers' QB had complete control of the game plan, worked the short to intermediate route tree and moved the sticks on third downs. Completes 36 of 50 passes for 365-yards and 2 TDs in the win over the Patriots that wasn't as close as the final score.
The Bills' defense: George Edwards' unit racked up nine sacks, forced two interceptions and shutout the 'Skins 23-0 up in Toronto. John Beck and the Washington offense had no answer for the Bills' pressure and finished the day with only 178-yards of total offense. Solid win for a club that sits in first place in the AFC East.
Follow me on Twitter: @MattBowen41