November 07, 2011 -
Matt Bowen
Handing out the Week 9 Sunday game balls
Let's go around the league and hand out some game balls from the Sunday NFL games. Here are five players that stood out from my perspective in the Week 9 schedule.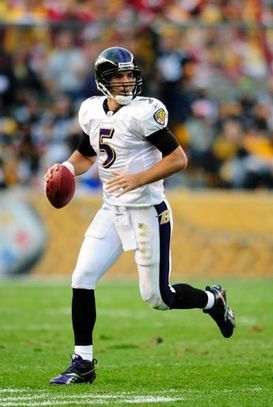 ICONFlacco went drove the Ravens 92-yards in the 2-minute drill to beat the Steelers.
Joe Flacco, QB, Ravens: If you didn't stay up for the final 2-minute drive in the Ravens' 24-20 win over the Steelers, go find the highlights. Flacco had complete control of the offense, worked the ball inside of the numbers and came back to Torrey Smith (after the rookie dropped a potential game winner) to close out Pittsburgh on the fade route. Great drive in a crucial situation vs. a top-tier defense.
Aaron Rodgers, QB, Packers: This is becoming routine to mention Rodgers on Mondays here at the NFP. In the 45-38 win out in San Diego, the Packers' QB completed 20 of 26 passes for 247 yards and 4 TDs (on top of his 52 yards rushing). And the throws he continues to make in the red zone are going to force secondary coaches around the league to lose sleep. Because even with perfect technique, Rodgers can still beat you outside of the numbers.
Willis McGahee, RB, Broncos: Denver rushed for 298-yards as a team and McGahee chipped in with 163 and 2 TDs in the road win over Oakland. What surprised me was the veteran RB's speed in the open field. I haven't seen McGahee run the ball with that type of production since I was playing with him back in Buffalo. That was impressive vs. a Raiders' front seven that I had talked up before.
Eli Manning, QB, Giants: Look beyond the numbers with the Giants' QB, because this was Manning's fifth 4th quarter comeback win this season. And he did it on the road vs. the Patriots. As I said in my notes this morning, he wasn't perfect (and did turn the ball over in the red zone), but he is becoming the type of QB that plays at a top level when the game is on the line. And his 6-2 Giants sit alone in the first place in the NFC East.
Julio Jones, WR, Falcons: 131-yards and 2 TDs for Jones—on 3 receptions. The rookie somehow came up with the ball between Colts' defenders on the deep post route and then took a slant route for 80-yards—outrunning the Indy secondary. Adding a healthy Jones to the mix in Atlanta makes this an interesting team to watch the second half of the season.
Follow me on Twitter: @MattBowen41