July 13, 2011 -
Matt Bowen
Harrison's comments as unprofessional as they get
I would go on the record any day and talk about the respect I have for Steelers LB James Harrison as a player. Without a doubt someone I would love to line up next to and even coach. One of the top players at the position.
But his recent comments in Men's Journal aimed at Commissioner Roger Goodell and some of his teammates? That's bad football.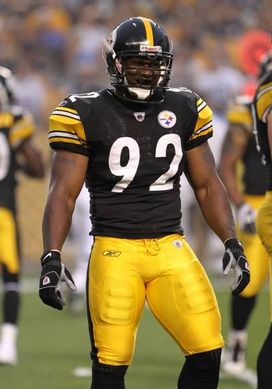 ICONHarrison's comments aimed at Roger Goodell and his own teammates don't add up from a professional standpoint.
"Unprofessional" is the first word that comes to my mind after reading his statements. To liter the Commissioner of the NFL with that type of negativity (calling him a "crook," "devil," etc.) doesn't add up, nor does it make any sense.
I understand his stance. This is a player that is without a doubt targeted by the league office for his style of play. But there is something to be said for acting like a pro in this type of situation. And that isn't it.
The second part, aimed at his own teammates, including his QB? That's complete garbage. No place for that in a public forum for the entre nation to see.
Here is what Harrison said about Roethlisberger on his play in Super Bowl XLV: ""Hey, at least throw a pick on their side of the field instead of asking the D to bail you out again. Or hand the ball off and stop trying to act like Peyton Manning. You ain't that and you know it, man; you just get paid like he does."
All that does is create controversy in your own locker room that the Steelers now have to navigate through once the lockout is lifted and we are back to football. Necessary. Not at all.
Now I played for four teams during my career and those type of statements that drift from different sides of the locker room happen daily. I couldn't tell you how many times an offensive or defensive player took a shot at one another. That's (unfortunately) part of playing in the NFL.
Big money on the line (or a Super Bowl in this case) and emotions runs high. I've even seen players go at each other on the sidelines, having to be held back by teammates before a brawl broke out. It can get that intense during an NFL game. Coaches get involved too.
The point here is simple. It is one thing to take a cheap shot at Goodell during the lockout (even though I don't agree with it), which we have seen plenty of times over the last couple of months.
But to throw your own teammates under the bus is uncalled for and shows a lack of respect as a professional football player.
And I have to ask Harrison if it was worth it. Because I don't see it.
Follow me on Twitter: MattBowen41