December 01, 2011 -
Matt Bowen
Have the Eagles 'packed it in?'
Watching the Eagles lose 31-14 to the Seahawks out in Seattle tonight, I saw a team that look disinterested (minus a few players), played with poor technique and didn't execute the basic fundamentals of the game.
Is that a sign of a team that has "packed it in" for the season? I've played on a team in the NFL that went down this same path during Steve Spurrier's final year in Washington—and this looks pretty similar. Let's check out some of my notes from the game…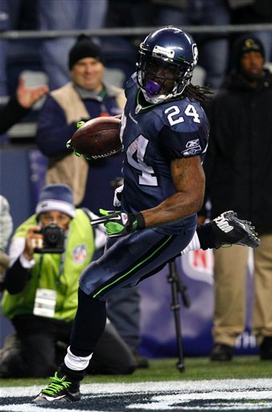 Lynch ran through the Eagles' defense for 148-yards in the Seahwaks' 31-14 win.
- I will get to DeSean Jackson, but I want to start with the defense. Why? The overall lack of technique, run-pass keys, etc. I understand the criticism of defensive coordinator Juan Castillo in Philly, but its time for these players to take some accountability as well. The front seven was beaten consistently and the tackling was extremely poor. I saw linebackers and safeties that couldn't get off blocks, bad angles to the ball and players that didn't wrap up vs. Marshawn Lynch. Bottom line: that defense didn't hit.
- With Jackson, it's right there in front of us. It is almost as if the WR has checked out mentally and we saw examples of that tonight when he ran routes. Remember, this is a receiver that is explosive and should test the top of the secondary every time he takes the field. Instead, we are now talking about a player that isn't treating the game like a pro. I can't figure it out. Is he hurt or is this all about a contract? He needs to figure it out soon if he wants to get paid real money and help this team win.
- A general lack of discipline of both sides of the ball. Vince Young's turnovers, missed assignments, etc. That's on Andy Reid and the players. And from my perspective, I am looking at a team that isn't responding to coaching. And when you have that disconnect between the locker room and the coaching staff, that is serious trouble.
Let's see how this Eagles' team finishes up the rest of the 2011 season, because at 4-8 they aren't playing for a postseason spot. Not what they expected back in August.
Follow me on Twitter: @MattBowen41