November 08, 2010 -
Matt Bowen
Have violent collisions in the NFL gone too far?
I want to open a discussion about the recent violence—if we want to call it that—in the NFL. Sitting with my brother, Tim, on Sunday watching the Eagles-Colts game, there was dead silence in my house when Indianapolis WR Austin Collie laid on the ground—motionless.
I have three sons (all under the age of four) who play with my old helmets from the NFL everyday. And, I am sure they will have interest in the game because of my background when they start to get to that little league football age. But, sitting there and thinking about what was going through the minds of Collie's family at that moment, I have to wonder if I ever want to see any of my boys on a football field.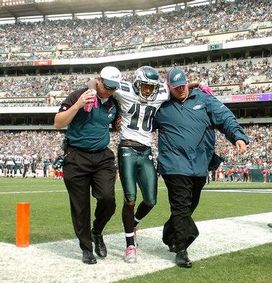 DeSean Jackson after taking a helmet-to-helmet hit earlier this season.
My brother's first response to the hit? "Don't let your boys play football."
The NFL has always been violent. That is the nature of the game. We see head injuries on a weekly basis now. DeSean Jackson, Jay Culter, Kevin Kolb, etc. I talked about my own issues with concussions—at length—earlier this season over at the Chicago Tribune. Opened up a bit and told my story. Headaches, etc. But, I was never carried off on a stretcher, strapped down with my facemask unscrewed. That is scary, and that is real. We start to see that there is a human element to this game when a player goes down like that—because lives are impacted.
In my opinion, the hit by the Eagles' Kurt Coleman was clean, and legal. Almost unpreventable. Football players going hard to the ball. With the amount of speed and power that these players have, Sundays can turn ugly when it comes to injuries. ACLs, broken bones, torn ligaments. We can live with those. Why? Because they are part of the game—and they can be fixed. Easy to reconstruct a knee (which I experienced) or throw a pin into an ankle or an arm to set a bone. Therapy, rehab, stim and ice. Whatever gets you back onto the field.
But, the helmet-to-helmet hits are uncorrectable. The damage is done once that head snaps back after contact. And, you are stuck with it for life.
There isn't a correct answer to the biggest topic of this NFL season. Players will continue to play hard—and violent—at the point of contact. That is football—NFL football. Play fast or get beat. Very simple. Try to separate the receiver from the football. That player lowers his head (just a bit) and we have a dangerous situation on our hands. That will always be a part of Sundays.
People have asked my opinion on this situation constantly this season here in Chicago. I don't have an answer, because there just isn't a way to slow down the game. It is too good and the product sells.
But that doesn't mean it hasn't impacted my thoughts as a parent, former player and fan of the game.
Follow me on Twitter: MattBowen41