March 14, 2012 -
Matt Bowen
Henne should create competition for Gabbert
I was surprised to see the Jags spending top tier money on Laurent Robinson today (5-years, 32.5 million). Even with the desperate need to upgrade the position, that's a high price for the former Cowboys WR.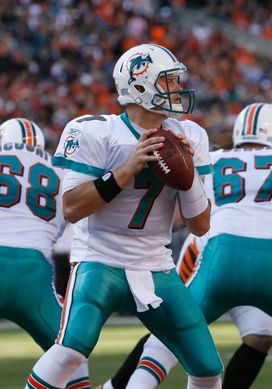 ICONWith the Jags signing Chad Henne, there should be some competition with Blaine Gabbert at QB.
However, adding Chad Henne (according to the Florida Times-Union) to the mix at QB is a move I like to see—because it creates competition in training camp with Blaine Gabbert.
This is what you want from the perspective of head coach Mike Mularkey. Bring in new talent to push the holdovers on the roster and see who comes out on top. And there are no guarantees with a new coaching staff in town.
With Gabbert, there is plenty of room to improve. He struggled as a rookie and didn't develop at the rate we saw with other top picks at the position in 2011. With Henne in town, Gabbert will be challenged on a daily basis starting with OTAs, throughout training camp and into the preseason games.
You find out plenty about young players in this league when a veteran (with experience) pushes them on a consistent basis. And we get to see if Gabbert can raise his level of play knowing that his job is possibly on the line.
That's real competition in the NFL. Earn your job as a young player and hold off the veteran that is coming to take it from you. Show up to practice during camp and produce in competitive settings if you want the No.1 role.
It will be awhile before the pads are put on and training camps open across the NFL. But looking at this move today from the Jags, the QB competition in Jacksonville could be one to watch.
Follow me on Twitter: @MattBowen41