November 07, 2012 -
Matt Bowen
Hey Andy, don't lose that locker room in Philly
Every team in this league is confident when they come out of summer camp. Bodies are fresh, there is little to no adversity, the first paycheck is about to arrive and guys are throwing around high fives.
Hey, life is good as a pro ball player when the season kicks off. But that changes quickly in this league—because NFL seasons are fragile.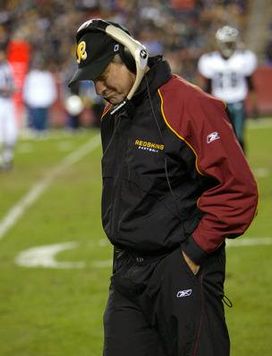 In 2003, we fell apart under Steve Spurrier in his last season as an NFL coach.
Take Andy Reid and the Eagles. This was a team that some projected (myself included) as a serious threat in the NFC. Mike Vick and the explosive talent on offense. A D-Line that could pressure plus a new MLB and talent in the secondary.
I looked at this team is August and expected to see a winner. I know Reid's offense from my time with the Redskins. It is a reliable scheme that hasn't changed for a decade when we talk about the top concepts in the playbook. And I also trusted Juan Castillo could get this defense to play an aggressive style that would force turnovers.
Castillo is now out of work and I just watched a team on Monday night in the 28-13 loss to the Saints that looked disinterested, flat and dull. There was no energy on that field and the technique (on both sides of the ball) was, well, unacceptable.
The reality? The structure of this team is falling apart in Philly.
Forget the "players only meeting" last week for the Eagles. That's just talk. Lazy talk, really, coming from team leaders that aren't prodcuing. I've been in those meetings and the time is spent better on the practice field in my opinion.
All that talent and a 3-5 record at the midpoint of the season? That's bad football, folks.
However, I can't say I am that surprised after experiencing a lost season as a player for Steve Spurrier in Washington during the 2003 season.
After a 3-1 start, we honestly thought we could make a run to the post season. But by the start of November, that team was toast. The atmosphere started to resemble a preseason schedule in terms of commitment and attention to detail. Guys showed up to work. But that's it.
That season went south in just weeks. And that 3-1 start turned into a 5-11 finish.
I can't blame it solely on Spurrier, even though we knew by December that he wouldn't be back the following season. We deserved the criticism too as players because we stopped believing in the system.
Practices lacked speed, the game plan started to consist of gadget plays and we couldn't tackle anyone (or even consider making a big play) on defense.
The only win down the stretch came vs. QB Jesse Palmer and the Giants on a day where a snowstorm kept the majority of fans at home. Heck, there were no seats available in the upper deck because of the snow. It was a throwaway game that fit perfectly in a season that spiraled downward. In Week 17, it got worse. We played Donovan McNabb and the Eagles. They shut us out and could have put 50 (or 60) on us if they really wanted to.
What a way to end the year, right?
The next season Joe Gibbs and Gregg Williams showed up and everything changed in the building—starting with the locker room.
I don't know where the Eagles will end up. Maybe they pull this together and make a second half run. Or, maybe not. But it has to start with the relationship between coach and locker room. If the players believe in Reid, there's a chance looking at the overall talent in Philly. If not, well, you know the anwer.
Follow me on Twitter: @MattBowen41