October 11, 2011 -
Matt Bowen
Hey Bears' fans, Cover 2 isn't the issue on defense
Since Calvin Johnson ran the double-move last night vs. the Bears' Cover 2 defense for a 73-yard score, I have been getting comments via Twitter blasting Lovie Smith's scheme.
But the scheme isn't the issue here—it's the lack production and poor technique of a veteran defense in Chicago. Here is what I am seeing from the Bears' defense...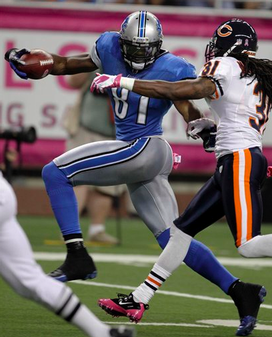 Johnson lit up Cover 2 for a 73-yard score, but Xs and Os aren't the issue for the Bears' defense right now.
- No pressure from Julius Peppers. Doesn't matter if you are playing Cover 4, Cover 3 or Lovie's Tampa 2, because any zone-based scheme is predicated on getting to the QB. And when you are working vs. an offense in Detroit that wants to spread the field (same look we saw from Cam Newton and Carolina in Week 4), too much time in the pocket will lead to big plays. Peppers is a veteran with Pro Bowl talent—he has to play like it.
- The safety position. It is a serious issue in Chicago right now. Poor angles to the football, bad tackling and the inability to read route schemes. That's two straight weeks of below average play from Brandon Meriweather and Chris Harris was the safety victimized by C.J. last night. It would be the same results if the Bears went to a Cover 1 scheme or brought more pressure. The safeties just aren't accountable for Lovie right now.
- Simple techniques. On the Johnson TD, he was given a free release off the line of scrimmage from Charles Tillman. There is no question Harris looked lost when trying to play the top of the route stem, but at least give him a chance. Have to get a re-route and take some of the stress of the safety when you are playing vs. the No.1 offensive weapon in the NFL. Can't have that from a veteran talent.
- Poor eyes in the red zone from Urlacher. The Bears MLB is playing good football this season (along with Lance Briggs), but when you want to play Cover 2 in the red zone, your eyes have to be in the right place. A simple TE seam route to Pettigrew turns into six points because Urlacher reacts to false run read from the offense.
Cover 2 is a simple defense. It is all about landmarks, run/pass keys and reading the QB. But the big plays the Bears have given up this season have all come from mistakes that open up the top of Cover 2. And like I said above, scheme isn't the issue here. It is more about the players on the field who are getting beat by displaying a poor brand of football.
And Xs and Os won't change a thing when your veterans don't make plays.
Follow me on Twitter: MattBowen41