August 17, 2011 -
Matt Bowen
Hey Mike, run that football in Chicago
Let's keep this simple in terms of play calling in the NFL. 3rd and 8-plus eliminates half of the playbook. The number of routes you can run up the field vanish. And outside of the screen and draw game, the options you have are limited.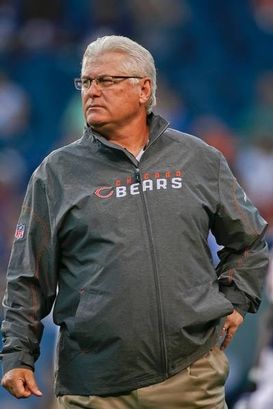 ICONWhen the Bears can run the football, Martz's game plan will have more success.
However, the teams that can run the ball and set up very manageable third down situations will continue to move the sticks, grind the clock and eventually produce big plays down the field.
That's what we saw from Mike Martz's offense in Chicago during the second half of the 2010 season. Ride RB Matt Forte, get Earl Bennett involved in the underneath passing game on 3rd downs and control the tempo of the game.
As Brad Biggs wrote today in the Chicago Tribune, WR Roy Williams has received the most attention this training camp, but it is RB Marion Barber (along with Forte) that may bring the biggest impact to the Bears.
Chicago can run he ball in Martz's scheme—and they may have to again this season to produce points.
The offensive line struggled on Saturday night protecting the QB and that isn't going to drastically change overnight. However, combined with their defense and special teams, running the football is a formula for success for the Bears. And Chicago could be a run-first team this season.
Sure, we will still see the down the field route schemes from Martz's offense to target Williams, Devin Hester, Johnny Knox, etc. But making the run game the core of your game plan adds to the play action and the vertical concepts for QB Jay Cutler.
I think the biggest issue we have when looking at Martz's offense is we expect fireworks like I saw when he was my head coach during my rookie year with the Rams in 2000. Different personnel here. This isn't the "Greatest Show on Turf." Those days are long gone.
And if Martz can continue to script game plans around the running game in Chicago, this offense can win football games. Because the best play callers adapt to their personnel.
Follow me on Twitter: MattBowen41