September 06, 2011 -
Matt Bowen
Hey rookie, are you ready for Week 1 in the NFL?
Now that we are talking regular season football in the NFL, keep an eye on the rookies during the Week 1 schedule—because the speed of the game is about to drastically change.
Forget about what they might have done during the preseason, because now the real test begins from both a physical and mental aspect. And if you can't keep up, you won't see the field when it counts. I've been there myself as a rook. There is no guide or instruction manual that can prep you for the jump in speed, hitting and intensity that exists on opening weekend in the NFL.
Here are just a few of the changes these rookies will see in Week 1…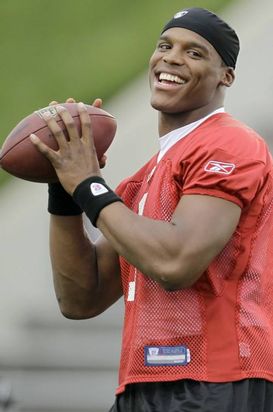 It will be a different game for Cam Newton and rookies this week.
- Start with the install for the game plan. Gone are the stale, preseason looks that we see all August. They are replaced by detail that forces you to know the playbook. Understand the schemes, the checks and how to line up—or you will see the bench.
- Most of these rookies will run on the scout team this week. That's right, look at a card and line up in the opposing offensive or defensive looks so the starters can get a feel for what they will see on Sunday. You aren't a star (yet) so know your role.
- Special teams. You aren't competing against guys looking for jobs anymore, because most of these kicking units are filled with vets that do this for a living. And if you get a holding call or a block in the back on a return, it will cost field position. NFL coaches won't stand for that in the regular season.
- The hitting. If you thought it was violent in your first taste of preseason action, you have no idea what it is going to be like come Sunday. These collisions take a step forward—like being in a car accident.
- Accountability. Unless you are a top draft pick, you could get cut next Monday. That's it. Call your agent and start working out for clubs. Do your job on special teams and always remind the coaching staff why you play an important role for your team.
- The game will move faster. And there are no "correction" periods like you see in training camp. Wins equal money—for everyone involved. This isn't college football. In fact, it's not even close. Be prepared to play fast, hit and make some plays.
As always, remember that "everyday is an interview." Straight from the mouth of Saints' defensive coordinator Gregg Williams. That's the truth.
Follow me on Twitter: MattBowen41