September 12, 2011 -
Matt Bowen
Hey Tom, give the secondary a chance
517-yards? Those are video game numbers that Tom Brady just put up vs. the Dolphins tonight. However, when we take a step back and try and break down what we saw from the Patriots' QB, one thing that stands out is how he threw (and completed) the entire NFL route tree—almost by halftime.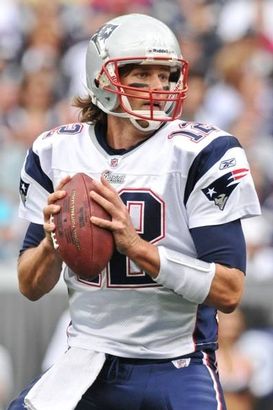 ICONBrady tore up the Dolphins' secondary and finished with 517-yards tonight.
(Click here to see a breakdown of the NFL route tree).
That's what you get from the Patriots offense—and it comes out of a variety of personnel groupings. We see the ball thrown inside of the numbers, the intermediate game, the deep comeback, option route, inside vertical seam, etc, etc.
And it never stops when Brady can sit in the pocket, move his feet and work over a the secondary. Just like he did vs. the Dolphins. Plus, the amount of time he had for route concepts to develop was unreal.
Brady completed passes to eight different receivers and his ability to use the TE position is crucial to moving the ball. Think of it this way, the Patriots scheme their game plans to create those matchups where a Hernandez or Gronkowski can consistently win vs. a LB or a SS dropping down into coverage. That's a weapon.
This is the type of production from Brady that should be talked about (all season long). To rip apart a NFL secondary like that is unique.
And although we probably won't see the Patriots QB throw for 500-plus again this season, the offensive script in New England isn't going to change much. Have fun as a defensive coordinator game planning for that.
Follow me on Twitter: MattBowen41