November 11, 2011 -
Matt Bowen
How about the Raiders' game plan last night?
Let's go back to the Raiders' 24-17 win last night over the Chargers and talk about Hue Jackson's game plan. Three areas we can break down—starting with Michael Bush and the power running game.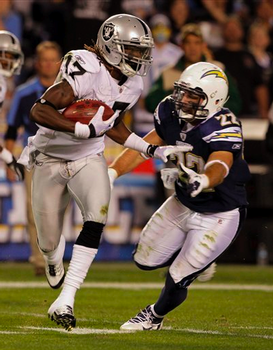 Rookie Denarius Moore displayed his speed outside the numbers in the Raiders' 24-17 win over the Chargers.
1. Bush and the run game: This is what I expect to see when I watch Raiders' football. Win at the line of scrimmage (consistently) and work the base downhill run game: Power O, Lead (Open and Strong), Counter OF, Zone, etc. Bush hit the hole, moved the sticks, showed cut back ability, and more importantly, finished runs. Even without Darren McFadden, this Raiders run game was playing at a different level than the Chargers front seven. Just look at these numbers from Bush: 30-151-1 TD.
2. Vertical passing game: Yesterday, I went back to the Broncos-Raiders matchup in Week 9 to talk some Xs and Os with Jacoby Ford and the 9 (fade) route. And that is exactly what we saw from the Raiders last night. Use speed outside of the numbers to stretch the field. Ford caught one ball for 41- yards (before leaving with an injury) but the story was rookie Denarius Moore. The 5th round pick (5-123-2 TDs) put on a clinic against veteran CB Quentin Jammer in the high red zone. Win at the line of the scrimmage, create separation down the field and make the catch. And when Carson Palmer is hot, this is a weapon in the Oakland playbook. Speed sells.
3. The screen game: Know when to call it. That's is always the key when you want to run the screen in the NFL. And if you can catch the defense in a pressure situation, or playing man coverage, it is going to break down the field. Go back to the 2nd half from last night. The Raiders were in a "backed up" situation (inside of their own 20-yard line). Call the screen to Bush (3 receptions, 85-yards) with the Chargers playing Cover 1 (man-free) in press-man alignments. That is a nightmare for a secondary—and the FS playing the deep middle of the field. When DBs have their backs to the QB (and are run off by the WRs), this becomes an issue. One of two big plays from Jackson's offense running the screen in the win.
Follow me on Twitter: @MattBowen41