December 29, 2012 -
Matt Bowen
How can Cowboys prep for Redskins 'Sprint' action?
Click here for the entire Inside the Playbook series.
RG3 and the Redskins are tough to game plan for inside of the red zone because of their multiple options within the playbook. Think of the Read Option, the boot game, QB Draw, dash and the sprint action.
However, the Cowboys' defense can use film study to track some pre-snap tendencies based on alignment and formation leading up to Sunday night's matchup for the NFC East title. Using the All-22 coaches tape, let's take a look at one of RG3's TD passes off of sprint action from the Redskins-Cowboys matchup on Thanksgiving.
Redskins vs. Cowboys
Personnel: Posse (3WR-1TE-1RB)
Formation: Doubles
Route: Curl-Flat (Sprint)
Defensive Scheme: Cover 4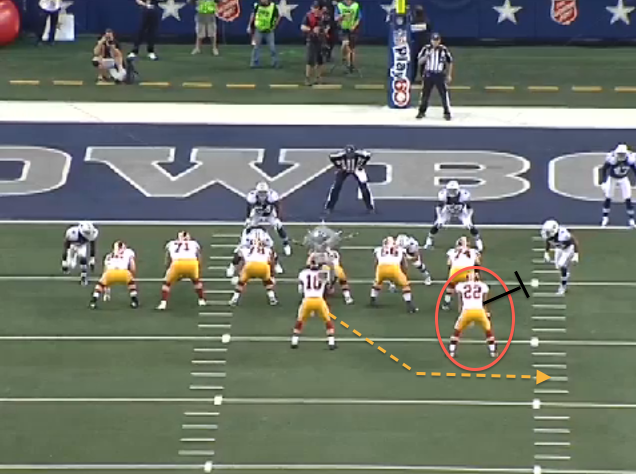 I want to start with a quick look at the end zone angle before the snap because the RB's alignment tells you the story. This is called a "chowed" alignment (outside leg of the tackle). From a defensive perspective, when you see a RB with a "chowed" split to the open side of the formation it is an automatic alert to the sprint game (RB will seal the edge).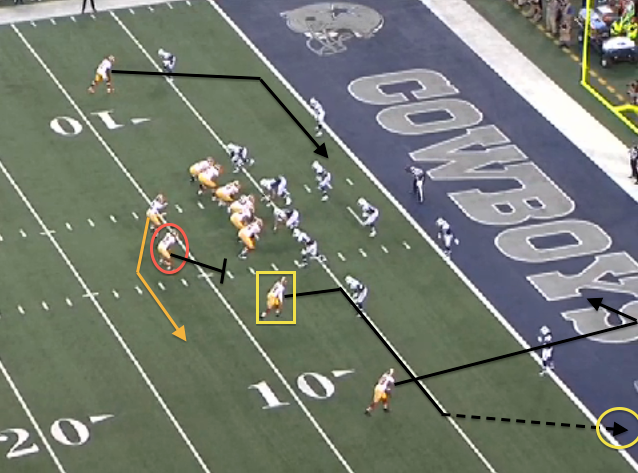 There are two routes you will see inside of the 10-yard line off of sprint action: Curl-Flat and Flat-7. That's pretty standard across the league. Here, the Redskins are running the Curl-Flat with No.1 pushing up the field on the curl and Santana Moss on the quick burst to the flat.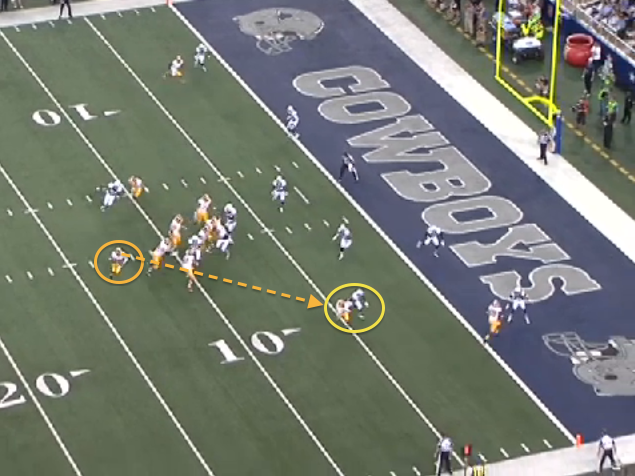 Contain principles. That's a must vs. Griffin and the Redskins. The Cowboys are in position to defend the route with the FS working to No.1 and the nickel back driving to Moss on the flat. However, once the QB breaks contain and extends the pocket, Moss can convert this route up the field (converts to a wheel concept).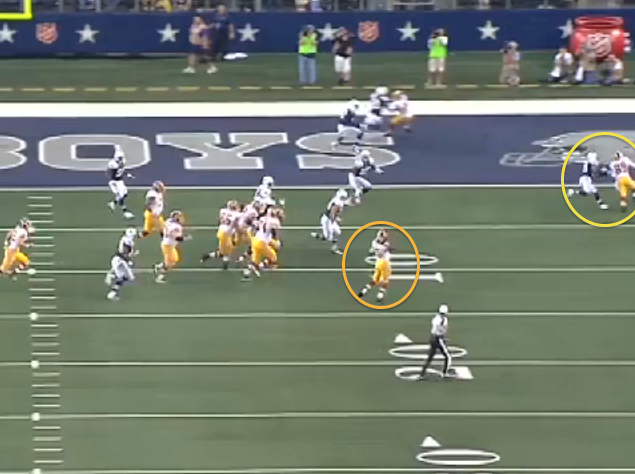 The back-shoulder throw. As you can see on the end zone angle, RG3 throws this ball to a spot—before Moss opens the hips. That's a tough position for any DB in coverage that is working vertically to stay on the inside hip of the WR.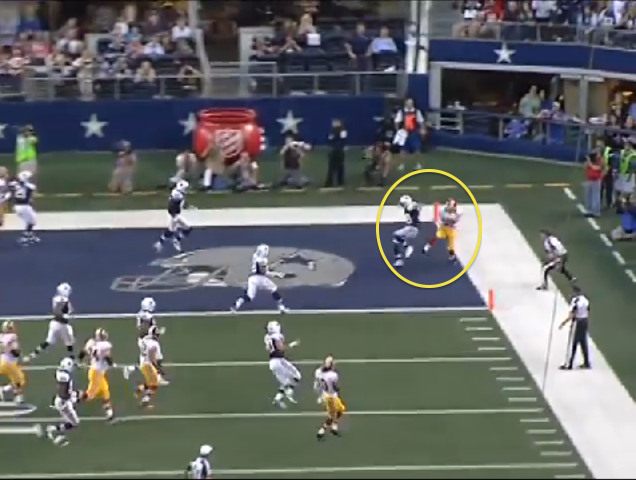 Look at the ball placement here. RG3 puts this throw to the outside and on the boundary. This allows Moss to make the catch, tap the feet and finish the play. But it all started with the Redskins' sealing the edge of the defense and Griffin extending the pocket. That's a correction the Cowboys have to make Sunday night.