December 11, 2012 -
Matt Bowen
How 'cutthroat' is the NFL? Ask Cam Cameron
I have this old notebook in my office that is loaded with sayings, quotes and phrases from the multiple coaches I played for in the NFL. It's all in there. From motivational speeches to some of the funniest things you will ever hear a grown man say. Pages full of this kind of stuff.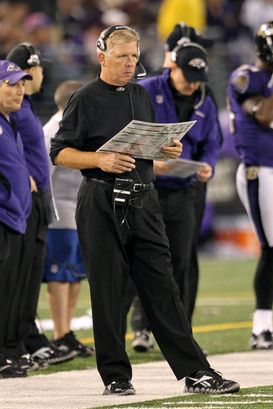 US PRESSWIREThe Ravens fired offensive coordinator Cam Cameron on Monday.
Redskins special teams coach Danny Smith is at the top when it comes to classic lines. Smart guy. A unique personality. Knows how to connect with players. Can command a room of 40-plus. That's a special teams coach for you.
And after the Ravens fired Cam Cameron yesterday, I couldn't help but think back to one of Smith's lines...
"We are in the business of winning. That's it."
I can't say it any better when it comes to the NFL. Lose games and coaches get fired. And when coaches get fired, the players are the next in line to be shown the door.
Nothing else matters. Win or jobs are lost. It's that simple.
That's how I see the situation in Baltimore. I have no problem calling it a desperation move from head coach John Harbaugh after two straight losses and a season full of expectations that fell flat on the offensive side of the ball.
Hey, if Harbaugh thinks a change at this point of the season can lead to some increased production with Flacco, Rice, Smith, Boldin, etc., then that's a move he has to make.
I get it. We all should. Because that's the NFL way.
I can tell you from a player's perspective that a fresh game plan and a new voice in those Ravens' offensive install meetings will grab some attention.
My rookie year in St. Louis our defense was, well, an issue. Towards the end of the season, Coach Martz brought in the late Bud Carson as a "defensive consultant." We sat up straight in those meetings and didn't mind hearing a new voice when we broke down film or talked game plans.
The way we were playing; a semi-change was needed to keep pace with the greatest offense I have ever seen. Warner, Faulk, Bruce, etc. Fun to watch. But the point is we didn't hold up our end of the bargain and Bud came in to try to fix the situation.
That's why the Ravens made the move with just three weeks left in the season. They will look to generate some positive results on offense, find some consistency and get better play from the quarterback position with the playoffs right around the corner.
And after watching Tom Brady beat up the Texans last night, along with the season Peyton Manning is putting together out in Denver, can you blame Harbaugh for making a change?
This is a cutthroat business for everyone involved. Cameron was the latest name to take the fall and there will be more once the season wraps up. Players too.
Produce or get out of the way. Because no one has time to wait around for results in a league that is all about winning.
Follow me on Twitter: @MattBowen41