January 07, 2012 -
Matt Bowen
How did Andre Johnson beat Pacman Jones deep?
I will break down Arian Foster's production and the entire NFL playoff weekend after the final Wild Card matchup on Sunday in Denver. However, I want to go back to a play from the Texans' 31-10 win over the Bengals today to talk about man-coverage and technique when playing the double-move.
Andre Johnson vs. Adam (Pacman) Jones on the double-move for a 40-yard TD. What happened? Let's break this down and get into some coaching points.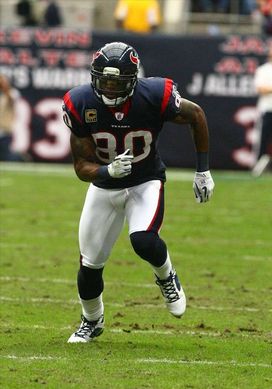 ICONAndre Johnson took advantage of poor technique from the Bengals' secondary.
Off-man coverage: With the Bengals playing Cover 1 (man-free), this is an ideal technique for Jones to be in. Work through the 3-step game with a flat-foot read, get into your backpedal and maintain leverage vs. Johnson (outside shade). If he wants to run a double-move, you should have enough cushion (distance between CB and WR) to stay on top of the route.
Eyes: Anytime you see a DB get beat, ask this simple question: "Where was he looking?" Jones tries to jump the stutter move from Johnson and his eyes immediately go to the QB. This is the No.1 reason you see big plays in the passing game. Keep your eyes on the WR because that is where the ball is going. When you look back in at the QB it creates separation and puts you in a trail-position. A spot you don't want to be in vs. one of the top tier WRs in the NFL.
Free safety help: Real poor angle from the Bengals' Chris Crocker. When you are playing the deep middle of the field, the QB will take you to the double-move. Play with depth, read the "pump" and take an angle that allows you to get outside of the numbers. And if get a jump on the throw, you will be in a position to make a play on the ball. Instead, Crocker takes a lazy (lateral) angle in this situation and that doesn't provide any help over the top once Jones is beat.
This is all about technique. NFL offenses use double-moves every week (especially near mid-field). Play the technique of the defense and you can take this route away. No need to make it complicated and give up the deep ball.
Follow me on Twitter: @MattBowen41