December 09, 2012 -
Matt Bowen
How did A.P. burn the Bears on the first play?
Click here for the entire Inside the Playbook series.
Let's go back to the Vikings' 21-14 win over the Bears today and take a quick look at Adrian Peterson on the first play from scrimmage. A base inside zone scheme vs. an Under front. Let's check it out.
Bears vs. Vikings
Personnel: Heavy (1WR-3TE-1RB)
Alignment: Huge Wing
Scheme: Inside Zone
Defense: Under 10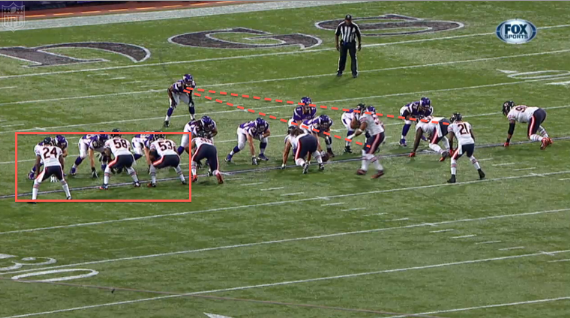 - A quick breakdown on the alignment. A "Huge Wing" is three TEs to the closed (strong) side of the formation (Heavy Personnel) with the backside X receiver removed from the core.
- The Bears are in Under 10 (weak side man rotation). With an Under front (Nose shaded to the closed side of the formation), SS Major Wright will walk down to the open (weak) side of the formation and play the "A" gap weak and track the RB on a strong side run. Man-to-man principles (outside leverage) with FS help in the middle of the field.
- How do you cover three TEs in a wing alignment? Bump the Mike (Nick Roach) and the Sam (Geno Hayes) down in coverage with the CB (Kelvin Hayden) on the edge (force player in run).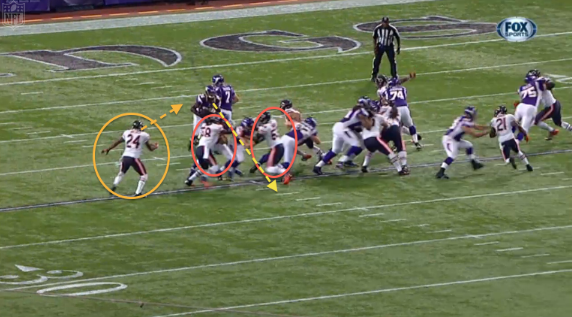 -The Bears are a gap control defense. It's that simple. Here, the Vikings will block down on Roach and turn out Hayes. Create a running lane and give Peterson room to get up the field.
- What will a coach tell Hayden in this situation? "Shoot your gun." Yes, the CB is the edge force. I get that. But Hayden can go make this play now. Don't hesitate and don't wait for A.P. to try and bounce this run. If you have an opportunity, cut the edge and make the tackle.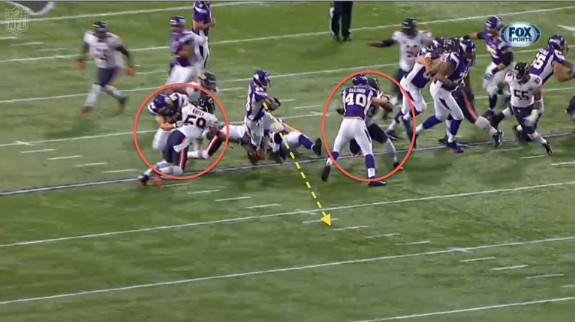 - Hayden eventually crashes down inside, but he is too late and diving at the legs of A.P. isn't going to get him on the ground. And with the Vikings fitting up on both Roach and Hayes, Peterson is going to get to the second level of the defense.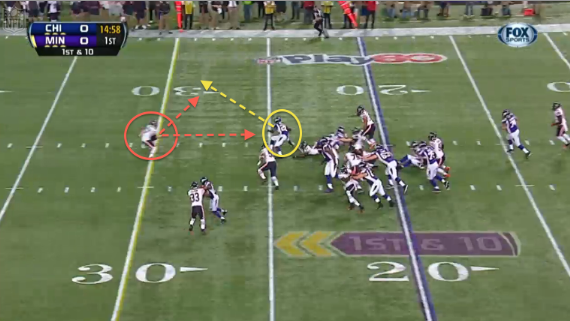 - A run breaks to the secondary? That happens. Now it is on the FS to get him on the ground, but you have to shorten the angle. Here, Chris Conte stops his feet and allows Peterson room to cut back to the outside. As a FS, you want to attack the inside shoulder and keep your feet moving on a downhill path.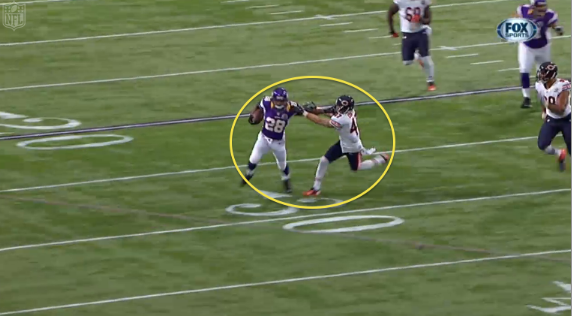 - Because Conte stopped his feet and allowed Peterson to bounce back to the numbers, he now has to chase from inside-out angle vs. the league's top back. That's a tough spot to be in when A.P. can use the stiff arm, run through contact and get up the sidelines.
Follow me on Twitter: @MattBowen41