November 22, 2012 -
Matt Bowen
How did Brady beat the Jets' blitz?
Click here for the entire Inside the Playbook series.
I want to go back to Tom Brady's 56-yard TD pass to Julian Edelman from the Patriots' 49-19 win over the Jets to talk scheme in the secondary. With Rex Ryan's defense sending a five-man zone pressure, the Patriots' WR got behind safety LaRon Landry on the 9 (fade) route. What happened? Where was the breakdown that allowed Brady to target the deep ball?
Let's run through the play and take a look…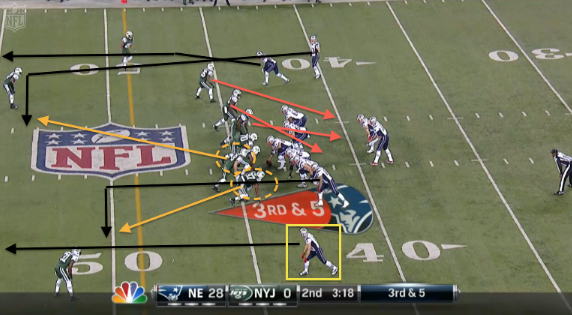 - The Jets want to show overload pressure to the closed (strong) side of the formation and bring the blitz from open (weak) side with two underneath "vertical hook" droppers (orange) that will match to No.2 (Welker and Hernandez).
- In the secondary, New York is playing "Gold." Think Cover 2 here with the CBs dropping No.1 to the safety when No.2 breaks on the out/option cut. The idea: show the QB 2-deep and set a trap on the underneath reads with the CB jumping the flat. At the safety position, you are coached to come off your landmark (top of the numbers) and match to No.1 vertically.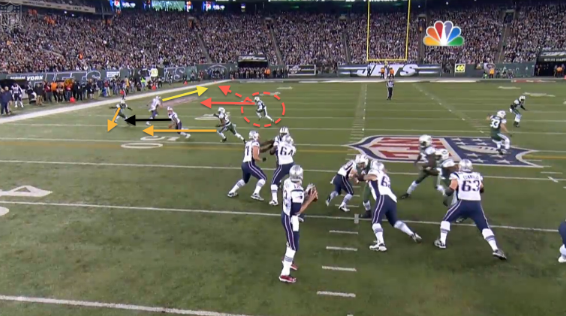 -The Jets have what they want. The closed side vertical hook player will cut underneath Hernandez with Cromartie in a position to drive the route. If Landry takes an angle to the up field shoulder of Edelman, they can force Brady to work back to the open side of the formation.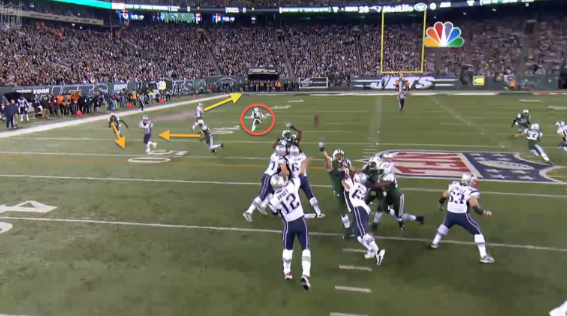 -In "Gold" the safety has to play No.1 almost with the same technique of a Corner Cat (CB Blitz) and there is no underneath help. You are on your own to play with depth, squeeze the 9 route and be in a position to turn and run. However, Landry squats, takes a flat angle and allows the WR to get behind him down the field.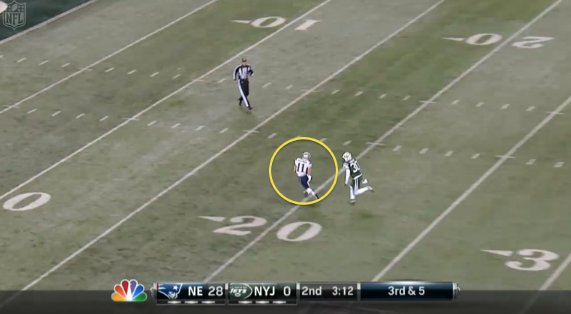 The finish from Edelman. With Landry in trail position because of the poor angle from the deep half, Brady can hit the 9 route for six points.
Follow me on Twitter: @MattBowen41