December 27, 2012 -
Matt Bowen
How did Flacco beat Giants' Cover 0 pressure?
Click here for the entire Inside the Playbook series.
I'm always interested in defensive game plans when the ball is in the red zone. Think of it as an opportunity to dictate field position and force the QB to make quick decisions. However, if you want to lean on your blitz packages then you better play some technique in the secondary.
Looking at the tape of the Giants-Ravens matchup from this past Sunday, New York played some Cover 0 (man-to-man with no safety help) inside of the 10-yard line and gave up the slant route to Torrey Smith. Let's check out the All-22 cut-ups and breakdown some coaching points on Joe Flacco's TD pass.
Giants vs. Ravens
Personnel: Posse (3WR-1TE-1RB)
Formation: Empty
Route: Tare/Slant
Defensive Scheme: Cover 0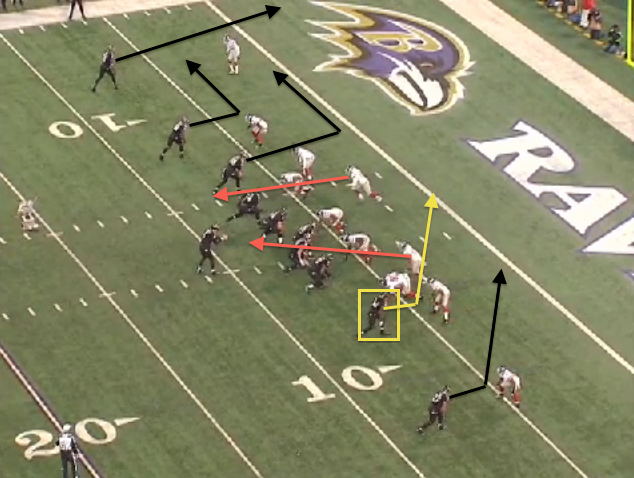 This is the basic "Tare" concept out of an empty alignment. To the closed (strong) side of the formation, the Z receiver will run the clear out 9 (fade) route with No.2 and No.3 on the "stick" combination. With Smith in the slot to the open (weak) side, and Ray Rice removed as the No.1 receiver, the Ravens are running double slants. A three-step concept that will allow Flacco to get the ball out vs. 6-Man pressure.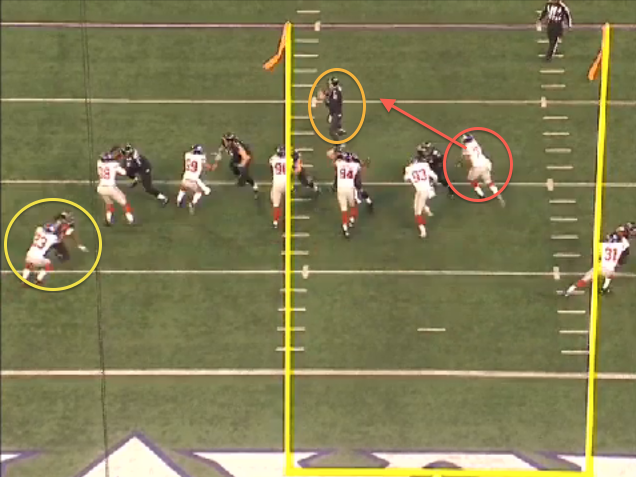 Check out Smith on the release vs. Corey Webster. In Cover 0, the DBs are taught to play with an inside shade (no safety help) and take away the slant in a red zone situation. However, Webster doesn't slide his feet to mirror the release and that allows Smith to win on the inside stem. Remember, because of the route combination, the Ravens only have five to block six. The O-Line slides the protection to the open side, but that leaves the closed side DE free off the edge. The ball has to come out or the QB is going to be on the ground.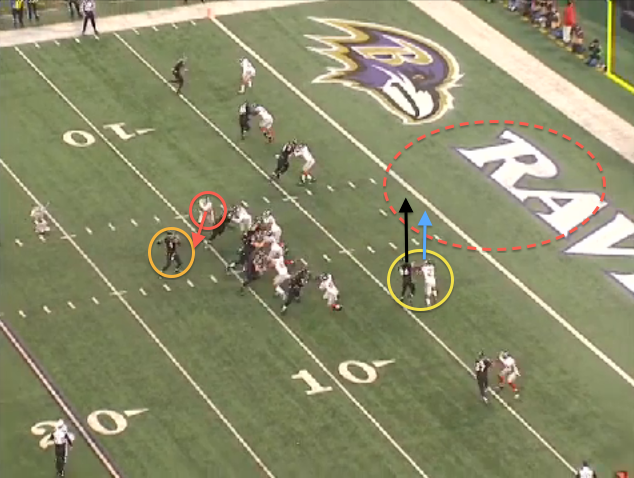 Look at the middle of the field. With no safety help (or a LB dropping to the middle hook), Webster is on an island. Flacco can make a quick decision to the open side of the formation and target Smith knowing there is backside pressure.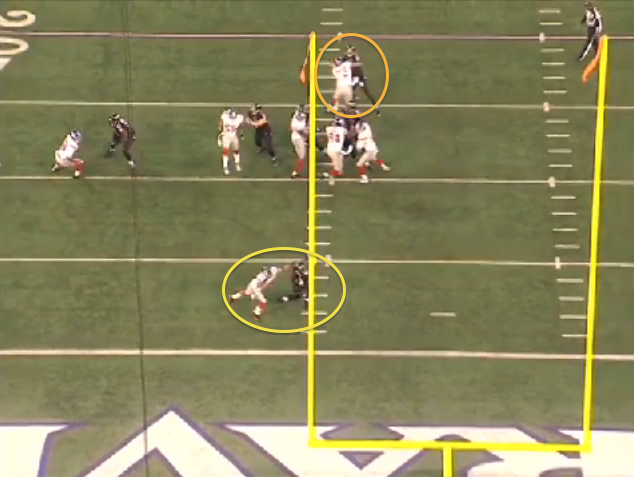 Can't get beat to the inside. That is exactly what a pro DB coach would say in this situation. I like the call from the Giants to send pressure and force Flacco to make a quick decision under stress. We see that across the league in the red zone. However, technique still sells in the secondary.
Follow me on Twitter: @MattBowen41