December 12, 2011 -
Matt Bowen
How did Julio Jones beat the Panthers in the red zone?
Click here for the entire Inside the Playbook series.
Julio Jones caught two TD passes from QB Matt Ryan in Atlanta's 31-23 comeback win on Sunday vs. the Panthers in Carolina. Today, let's focus on Jones' 17-yard TD on the 7 (corner) route, talk formations, alignments and how the Falcons were able to isolate the WR inside of the 20-yard line.
Falcons vs. Panthers
Personnel: 3x1 Posse (3 WR, 1 TE, 1 RB)
Route concept: Flat-7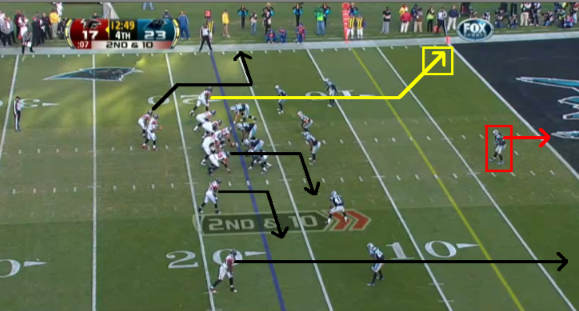 Route Breakdown
Alignments and splits: Check out Jones from his pre-snap alignment to the open (weak) side of the formation. That is called a "nasty" (or reduced) split into the core of the formation. To run the 7 cut, Jones has to create room up the field. Instead of a wide split that requires a hard, inside stem to get vertical for the 7, Jones is already in the position to run the route. Remember, the pre-snap splits of the WRs tell you the story.
Open side route concept: Nothing complicated here. The Falcons are running your classic Flat-7 combo. With the RB offset to the open side, Atlanta is creating a "stack" look. With Jones on a vertical release, the Falcons can release the RB to the flat. Different alignment, but the same concept we will see vs. Cover 2 out in the field.
Closed side route concept: This is called a "Tare" route. A concept you will see in on a consistent basis in the NFL with a 3x1 alignment. The No.1 WR will run a clear out 9 (fade) route with No.2 to the flat and No.3 (TE Tony Gonzalez) on the option/out route. Depending on the split of the backside X receiver, always be alert for the slant route.
Free Safety help: The Panthers are playing Cover 1 (man-free) and that impacts the FS help in the middle of the field. DBs are taught to funnel receivers to their help and play with outside leverage. However, with Jones on an outside breaking route, the CB is on his own once he loses leverage to the outside.
Follow me on Twitter: @MattBowen41