January 16, 2012 -
Matt Bowen
How did Manning beat the Packers in the red zone?
Click here for the entire Inside the Playbook series.
Let's go back to Sunday's Divisional Playoff matchup at Lambeau Field, discuss red zone defense and take a look at Eli Manning's TD pass to Mario Manningham. As we have talked about before, play action inside of the 10-yard line line can open up the middle of the field when LBs and safeties attack the line of scrimmage.
And that is exactly what we saw from the Giants' playbook as Manning used run action to target the skinny post. I want to break down the route, look at the coverage the Packers are playing in the secondary and illustrate why Manningham had a free run to the middle of the field.
Giants vs. Packers
Personnel: Posse (3 WR, 1 TE, 1 RB)
Route: Skinny Post (play action)
Coverage: Combination man (Cover 7)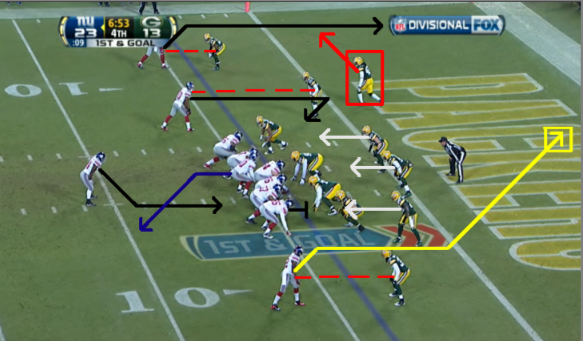 Coaching Points
1. "Combination" man-coverage: Check out Morgan Burnett (highlighted in red box) from his pre-snap alignment. The Packers essentially are playing "combination" man (similar to Cover 7 calls), where the FS will look to double one of the receivers. Here, the Packers are going to play 2-on-1 vs. Hakeem Nicks (possibly to take away the fade route). However, that leaves nickel back Charles Woodson and CB Tramon Williams in "solo" coverage with no safety help in the middle of the field.
2. Play action: The Giants show run action to the closed (strong) side of the formation with Ahmad Bradshaw. With TE Jake Ballard staying in to block, both inside linebackers and the SS step to the line of scrimmage (eyes in the backfield). This now turns into Cover 0 (blitz-man) for the Packers with the underneath defenders unable to get any depth on their drops after reading run.
3. Route scheme: Focus on Manningham (route highlighted in yellow). The Giants' WR releases to the inside, stems vertically up the field and then breaks to the post (creating separation). With Williams holding outside leverage, Manningham can work to the middle of the field as the CB is now in what I call a "trail position." Tough spot to be in as a DB with no help to the inside.
The Packers wanted to take Nicks out of the play. Understandable on the goal line with the threat of the fade route (or back-shoulder fade). But when the second level of the defense reads a false run key, the CB is going to be hung out to dry in this coverage.
Follow me on Twitter: @MattBowen41