November 22, 2011 -
Matt Bowen
How did Philly beat the Giants in the red zone?
Click here for the entire Inside the Playbook series.
What do you get with Andy Reid and the Eagles offense? Inside breaking routes that provide the QB with a throwing lane between the hash marks and the numbers. The same route tree Reid has been running for a decade.
Today, let's go back and take a look at how Vince Young was able to hit WR Riley Cooper for a TD on the game winning drive vs. the Giants.
Before we get to the Eagles' pre-snap look, let's set this up. Philly has their Posse (or 311) personnel on the field vs. the Giants base Nickel package playing Cover 2. The Eagles will use pre-snap motion to create a 3x1 alignment and work the two inside receivers to target the Mike backer.
Here is the route drawn up after WR Jason Avant comes in motion to the closed (strong) side of the formation.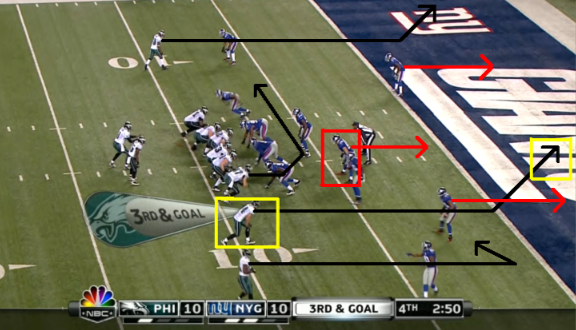 Some quick coaching points…
- What we are looking at from the Eagles' is a "Hi-Lo" concept—a standard in the west coast system. Run TE Brent Celek on the underneath crosser with Cooper (highlighted in yellow) over the top on the skinny post (will be converted to a dig route vs. Cover 4). The vertical releases from Avant (curl) and DeSean Jackson (7 route) to the top of the screen are to hold the two deep safeties on their landmarks (top of the numbers).
- I like the call from Giants' DC Perrry Fewell to play Cover 2 on a third down situation in the 4th quarter. Force the ball to go underneath to Celek, make a tackle and play for a FG. However, as I have detailed before, playing Cover 2 in the red zone can be an issue if the Mike Backer doesn't get depth at the snap of the ball. Here, the Giants' Mark Herzlich (highlighted in red) steps up vs. Celek—and that's all the room V.Y. needs to make the throw. Herzlich should open his hips to the passing strength, play with depth and take away the skinny post.
- Where are the safeties? In Cover 2, this is on the Mike. Both safeties will overlap any throw inside of the numbers. We see it all of the time out in the field vs. the vertical game, but down here in the red zone, the safety has no chance to make a play on the ball. These routes break at shorter depth inside of the 10-yard line and the throw takes less time to get there.
As I said above, playing Cover 2 in this situation is a solid call to take away throwing lanes and force the ball to go underneath or to the check down. But when you don't play the technique of the defense in the red zone, it is time to strike up the band and play the fight song.
Follow me on Twitter: @MattBowen41