December 20, 2011 -
Matt Bowen
How did Stafford, Calvin Johnson beat the Raiders?
Click here for the entire Inside the Playbook series.
On Sunday, Matthew Stafford and the Detroit offense went 98-yards in a two-minute situation to beat the Raiders 28-27 in Oakland. The primary target on that final drive: WR Calvin Johnson.
Today, let's discuss formation alignments, route schemes and why Johnson was able to work the middle of the field in the red zone on the skinny post to win this game.
Lions vs. Raiders
Personnel: Posse (3 WR, 1 TE, 1 RB)
Route scheme: Tare/Skinny Post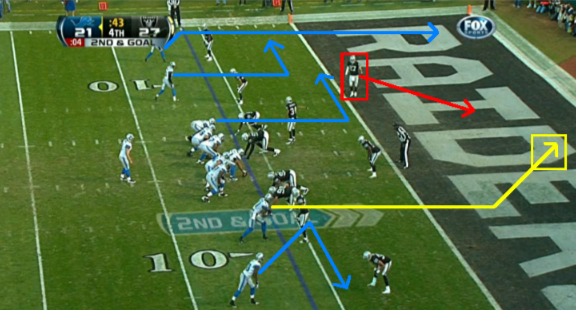 Formation and alignment: Nothing unique about the Lions using an empty formation with the RB removed from the backfield. However, the pre-snap alignment of Johnson is key in this situation. The Lions' WR is in the slot to the open (weak) side of the formation. This is a game plan call from Detroit. Take your No.1 WR and align him out of position for one reason: to get him the ball.
Route scheme: Start with the closed (strong) side of the formation. The Lions are running a "Tare" concept (Fade-Flat-Option). A common route combination you will see on Sundays throughout the NFL out of a 3x1 alignment (or 3x2 in an empty formation). To the open side, a Flat (off the whip action) with Johnson (highlighted n yellow) running the inside skinny post—the primary read for Stafford.

Safety help: The Raiders are in base Cover 1 (man-free). In this defensive scheme, DBs are taught to play with an outside shade and funnel the receivers back to their help in the middle of the field (FS). However, check out the pre-snap alignment of the Raiders' FS (highlighted in red). Some confusion before the snap and Oakland is now playing man-free without middle of the field help. That's not going to cut it vs. Stafford and Johnson.
The Drive: Before Johnson caught the TD to beat the Raiders; he was targeted during that final drive on the 7 (corner) route, deep post vs. Cover 2 and the straight 9 (fade). Even if the Raiders' have middle of the field help vs. the skinny post, this is a still a play Johnson makes from my perspective. He won off the release, worked his stem vertically up the field and Stafford put the ball on the up field shoulder (away from the DB). There is a reason he is the unquestioned No.1 offensive threat vs. NFL secondaries.
Follow me on Twitter: @MattBowen41