October 21, 2011 -
Matt Bowen
How did the 49ers' Alex Smith beat the Lions on 4th down?
Click here for the entire Inside the Playbook series.
I was asked this morning about the TD pass 49ers' QB Alex Smith threw on 4th down this past Sunday to beat the Lions at Ford Field. What was the route scheme, the coverage, etc.? Let's go back, check out the Niners from their pre-snap look and go through a quick breakdown.
Harbaugh's club used Ace personnel (2 WR, 2 TE, 1 RB) and aligned in a 2x2 set (in a "Slot Exchange" look) with Delanie Walker (U) removed from the core of the formations as the No.1 receiver.
Check out the image below—along with the routes I drew in.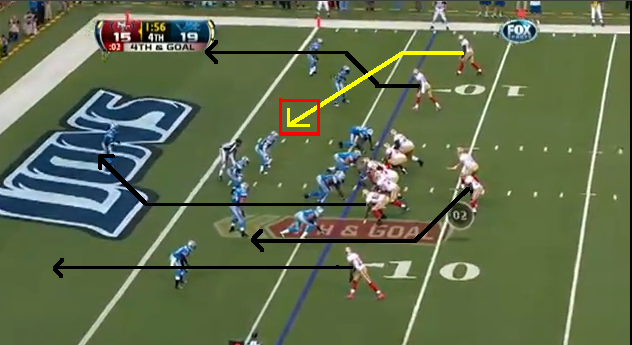 Here is what we see from the Niners:
Z: clear out 9 (fade route)
Y: (Davis) Seam route
X: Wide release 9 route
U: (Walker) Slant route
R: "Follow" route
The key here is the release of the "X" receiver (aligned as No2) to the open (weak) side of the formation. Working vs. a press-look, the WR (aligned on the ball) will take a hard, outside release to drive his route stem into the DB playing over the top of Walker—creating a "pick" situation.
The 49ers want to force the DB to work over the top of the "X" receiver and that generates enough separation for Walker to run the slant underneath. The release also puts the DB in a trail-position vs. the 49ers' TE running an inside breaking route.
This is a route concept in every NFL playbook and a top Cover 1 (man-free) beater in the red zone. Last season, Mark Sanchez and the Jets ran the same scheme, with the QB targeting No.2 on the fade to the back of the end zone.
(Click here to see the Jets "pick" play broken down on video)
One final look…
A 5-man route scheme from the Niners. Work the open side "pick" play and come back to the RB (R) on the "Follow" route as another option to win the game. Great call in a crucial situation inside of the 10-yard line.
Follow me on Twitter: MattBowen41