January 14, 2012 -
Matt Bowen
How did Vernon Davis expose the Saints?
We talk about matchups all of the time when breaking down the Xs and Os of the NFL game and today was a perfect example with 49ers' Vernon Davis on the playoff stage. A TE with speed, length, and size vs. a safety.
And Davis produced (7-180-2 TDs) vs. multiple coverages in the 49ers' 36-32 win over the Saints. Let's break it down…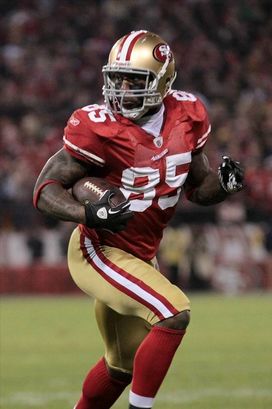 ICONDavis created consistent matchup issues for the Saints' secondary in the 49ers' playoff win.
Cover 1 (man-free): Go back to the first TD. Inside breaking route vs. outside leverage. Davis worked back to the opposite numbers, put Roman Harper in a "trail" position and broke a tackle from FS Malcolm Jenkins on the 49-yard TD. Now, go to the fourth quarter vs. Jenkins in a press-position. Davis wins at the line of scrimmage, gets vertical up the field and stacks on top of the safety. Ideal route running after beating a press-man look at the line of scrimmage.
Blitz-man (Cover 0): Again in the 4th quarter in a one-on-one matchup. The Saints sent Cover 0 pressure (no safety help). Jenkins aligned in an off-man look with inside leverage (blitz technique). Davis not only ate up the cushion of Jenkins (distance between DB and WR), but also created separation with the ball in the air. I don't think Jenkins expected Davis to run by him. But when you are in an off-man position, you have to turn your hips and go. An explosive play when QB Alex Smith put that throw on the up field shoulder.
Cover 2 (game winner): The Saints are a heavy Cover 2 (Tampa 2) defense inside of the red zone—and I love the route from the Niners. Reduced (tight) split to the formation that will allow Davis a free release. With the CB playing a "soft squat" (sink at the snap), the TE can now work the Skinny Post vs. a deep half safety. A route that breaks in front of the safety and works vertically away from the Mike Backer running the middle of the field. Great execution from Davis and Smith to get this win in a crucial situation.
Follow me on Twitter: @MattBowen41