November 14, 2012 -
Matt Bowen
How do NFL players 'survive' the 2nd half of the season?
It's that time of the year on the NFL schedule when bodies start to breakdown, injuries add up and players look to survive the playoff push. How do you manage it? Here are five ways players maintain their bodies when the weather starts to turn.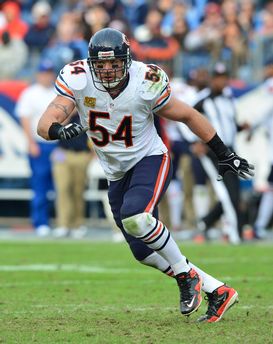 US PRESSWIREFor veterans like Bears' LB Brian Urlacher, recovery and maintenace are crucial to production late in the season.
1. Weight room: You aren't going to see many "gains" in the weight room in mid-November and plenty of players will be limited by injury. However, you can still get in the weight room on Monday morning after games to flush out some soreness and stick with functional movements to maintain your strength and explosion for the rest of the season. My advice: players should lift at least three times a week. You aren't setting weight room records now, but three solid sessions a week go a long way.
2. Treatment: Get in the training room. I know old school coaches will tell players to "tape an aspirin" to an ankle or a knee that isn't right, but vets know better. Get that stuff corrected. If you are nursing a muscle injury or are just banged up at this time of the season, get to the facility early in the morning for treatment and stay late after meetings to get some more before you head home at the end of the day. No excuse to let an nagging injury impact your production on Sundays.
3. Stretching/Cold Tub: Young guys can walk off the practice field or a weight session without cooling down. But for the guys that aren't 22-years old and naive, a solid stretching routine plus the cold tub should be part of your daily routine. I know getting in the cold tub after you walk off the practice field in 30-degree weather stings, but it allows your tired legs to recover. Throw a scarf on and jump in.
4. Diet: Its tough to keep weight on as a player at this point of the season. I can remember playing the safety position in camp at 205-210 and then seeing my weight drop to about 195-pounds by mid-November. Eat breakfast; use recovery bars/shakes after practice or weight sessions and stay away from fast food joints on the way home from the facility. It sound simple, but when your body weight drops, so does your strength—and that's when injuries happen.
5. Massage: There are multiple forms of alternate treatment out there for players in today's league, but a massage (at least once a week) is going to help your legs feel somewhat fresh at this time of the year. Deep tissue work that will leave you a little sore after, but if you give yourself enough time (Friday's were the day for me), come Sunday morning you are ready to run.
Follow me on Twitter: @MattBowen41