April 17, 2012 -
Matt Bowen
How do players view the NFL schedule release?
We know the fans get excited for the release of new NFL schedule, but what do the players look for? Here is a checklist I used from back in my playing days. From the opening day opponent to the date of the bye week, I used this as my guide to grade the schedule every offseason when it was finally announced.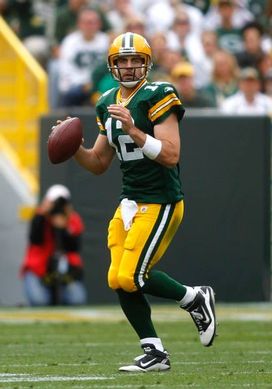 ICONRodgers and the Packers will find out who they open up with when the 2012 schedule is released tonight.
Opening day opponent: Time to get on the film. As I wrote about on Monday, your divisional opponents are key to a player's offseason film study, but the focus is always set on opening day. Once you find out who (and where) you are playing when the season kicks off, the meetings—starting in the offseason—will be tailored to fit the personnel and scheme of your first opponent.
The "first quarter": NFL coaches break down the season into four quarters. This applies to film study, game plans (offense and defensive tendencies are always charted in four game blocks) and your outlook on the new schedule. No sense to look ahead to the December games just yet. You want a fast start in the NFL? Then win the "first quarter". And if you fall in an early hole, you might not get out.
Monday night games: I always viewed playing on Monday night as a privilege—but there is a slight catch. When the players see the schedules released tonight and find a Monday night game (or games) on the list, the key is to look ahead to the following week. Why? A short week of practice. And if you have to travel, it will impact your game prep. Some teams land back at the airport when the sun is coming up on Tuesday morning after a Monday night ballgame. You lose a day of film study, game prep and recovery for your body.
Warm and cold conditions: If you have the Packers, Bears, Broncos, Bills or Patriots on the schedule, when do you kickoff? In September or October? No problem. But if you have to go to Lambeau in late December, get ready. And the same applies with the heat if you playing down in Miami, Tampa or Jacksonville in early September. I always looked that up.
Travel: A west coast trip? Do you have to go to Seattle? Will there be a week when you have to leave on a Friday? Sounds trivial, but I always checked the away games—especially when I played for the Redskins. Those trips out west to play the Niners, Chargers, etc. are long. And flying home six hours after playing a game can be a nightmare. Sprain an ankle and then hop on a plane to fly back to the east coast? You won't be able to walk when you land.
Bye week: I'm not going to lie, because this could be at the top of the checklist for players. You hope for a bye-week somewhere near the middle of the season. Time to rest your body and mentally get away from football. Spend time with your family or head back to campus to catch a game and drink beer. Whatever it is, you need that time away from the facility. And if your bye-week shows up early on the schedule, it can lead to a long season in this league.
Follow me on Twitter: @MattBowen41