November 18, 2011 -
Matt Bowen
How do we break down Tebow after that win?
After watching Tim Tebow win yet another game for the Denver Broncos on Thursday night, does anyone have an idea of how to grade him out? He played a very poor brand of football for the majority of the ball game, but somehow puts together a 90-plus yard drive to win this game in the 4th quarter.
Here is some quick reaction to the Broncos 17-13 win over Rex Ryan's Jets…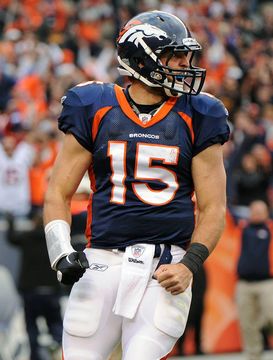 Tebow struggled for the majority of the night, but the 95-yard TD drive to beat the Jets keeps the discussion going.
- The game plan for the Broncos is unique. The read option, the triple option (no different than what we watch on Friday nights in high school ball), swap boot, jet sweep, etc. This isn't what we expect to see on Sundays, but I doubt it will change. The Denver QB is not going to succeed at this point in his career in a traditional pro style system that asks him to take five and seven-step drops, go through his progressions and move the sticks. This is what you get with the Broncos when Tebow is under center. Adapt the play calling to fit your personnel.
- Third downs were a major issue for Tebow. Couldn't hit the dig route (square in), any outside breaking concepts and missed on an opportunity to connect with Eric Decker down the field. The Broncos' WR used a double-move at the top of the route stem to create separation on the 8 (post) route. A throw Tebow has to make. The bottom line here is that the Broncos' QB has to develop his game to where this offense can run the entire route tree on 3rd downs. Right now they are limited.
- What else can you say about the final drive? Tebow made plays. Again, it wasn't conventional and the QB took advantage of a Cover 0 blitz (no safety help) when edge contain broke down to run for a 20-yard score. However, throughout that entire drive, Tebow made some throws, his WRs came back to get the football and this offense began to execute the playbook. Call it whatever you want, but it was good enough against Rex's defense to get another win and move to 5-5 on the year. And that keep this ball club in the mix in the AFC West.
Let the discussion begin...
Follow me on Twitter: @MattBowen41