October 23, 2011 -
Matt Bowen
How do we grade Tebow after the win in Miami?
A quick write up on Tim Tebow from the Bronco's win today down in Miami. What did we see? Some poor execution early and then some big plays late that will generate even more discussion on the Denver QB.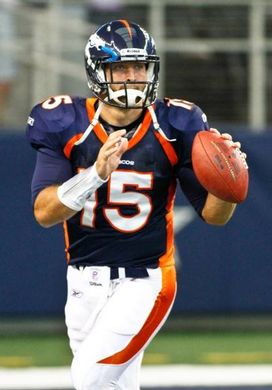 Tebow made the plays in the 4th quarter to send this game to OT in the Broncos' win.
- Tough to grade Tebow. Didn't have big numbers (13-27-161) and missed early in the passing game. This Denver offense was stale, couldn't produce and that starts with the QB position. And we can't say Tebow looked comfortable in the pocket. Took sacks, didn't deliver the ball and put this offense in adverse situations.
- The two-minute situation. This is where we get to see his overall skill set. Working out of the gun, Tebow is at his best when we the play breaks down. He can find receivers, move the sticks running the football (65-yards rushing) and make some plays. That might not be a fit for the Denver playbook, but it sells when Tebow can shows up in a crucial situation.
- The comeback? Give him the credit. He brought this team back, threw both TD passes in the fourth quarter, converted on the 2-point conversion and sent this game to OT. No matter what the overall numbers tell us, the plays he made to get his team in a position for a chance to extend the game is what you are looking for.
-What do we expect moving forward? That's the major question I have here, because I want to see how Denver shapes their game plan around Tebow. This is a football team that wants to run the ball, use play action, etc. However, look at the offense the Panthers have built around Cam Newton down in Carolina. Could the Broncos use more spread looks and get Tebow in the gun? He isn't the type of QB that is going to consistently produce using the 5-step drop. Denver has to play around with that game plan a little bit here if Tebow is going to be their guy.
Follow me on Twitter: MattBowen41