December 27, 2011 -
Matt Bowen
How do you defend the goal line slant route?
Click here for the entire Inside the Playbook series.
Two routes every DB in the NFL has to play on the goal line in man coverage: Slant and Fade. That's it. Go to a Friday practice in the NFL and the top DB coaches will dedicate time to working the release, split and stem of the WR at the snap of the ball.
Take away the slant (by alignment) and react to the fade.
I want to use James Jones' TD vs. Zack Bowman from the Bears-Packers matchup on Christmas night as an example, discuss some coaching points and breakdown how to take away the slant route.
Bears vs. Packers
Personnel: Posse (3 WR, 1 TE, 1 RB)
Route: Goal line Slant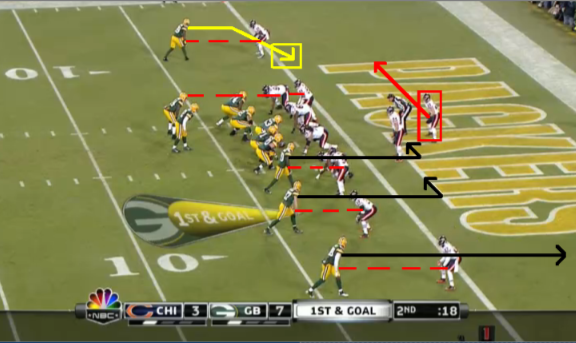 As you can see from the pre-snap alignment, the Bears are in base Cover 1 (matchups highlighted in red) with FS help (Craig Steltz) in the middle of the field. The Packers will use motion to create a 3x1 set and target the open (weak) side CB (Bowman) on the slant.
Three things you must teach in this situation from a defensive perspective:
- Stance and Alignment
- Route recognition
- Hands
Let's break them down…
Stance and Alignment: Inside eye of the WR with your feet parallel to the line of scrimmage. Don't stagger your stance or take an outside shade even in Cover 1 (safety help won't impact the slant route). Your first priority is to force the WR to cross your face on the release. That happens when you align with an inside shade.
Route recognition: Allow the offense to tell you what to play for based on the formation and splits of the WR. Check out Jones here: a split outside the numbers (expect slant). Plus, when you add in the 3x1 formation (high tendency for backside slant in the NFL) this has to tell you to play for an inside release.The offense can be an open book if you studt tendencies and game film.
Hands: Beat up the WR at the line of scrimmage. If you are going to play press-man, then punch with your outside hand on the release, force the WR to work lateral to the line and kill the play. Don't use a "taxi" technique (quick shuffle off the line) and never get depth in the end zone. Align in press and play a physical brand of football.
This is just one example, but when it comes to playing goal line defense in the secondary, you can't give up the slant. An inside breaking route that any QB (especially Aaron Rodgers) can make when you allow the WR to beat press-coverage and gain leverage.
Follow me on Twitter: @MattBowen41