October 28, 2011 -
Matt Bowen
How do you prep for Vick in practice? Get creative…
The scout team look NFL defenses get each week in practice is average—at best. Run the "cards" (play cards drawn up by assistant coaches) and try to give the first team defense a good feel for what they will see on Sunday.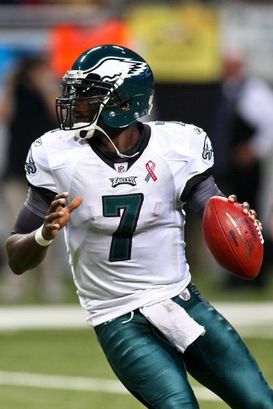 ICONThe Cowboys are using WR Dez Bryant as their scout team QB to prep for Vick.
First and second down prep on Wednesday, third downs on Thursday, plus red zone and two minute on Friday.
However, the problem when you play Michael Vick and the Eagles is simple: you just can't simulate his skill set in practice.
During my career (when we matched up with Vick and the Falcons), we would use a DB, WR or kick returner to play some scout team quarterback to get a look at an athlete under center. That can work when you try and simulate Vick's ability to break contain, stretch the defense and scramble on third downs.
But when that WR or DB is asked to throw a deep ball, a comeback, the Hi-Lo concepts or the 7 (corner) route, it isn't pretty. In fact, it is usually flat out awful—meet with laughter from players and coaches.
The Cowboys solution this week? Let WR Dez Bryant run the scout team offense.
Here's what Cowboys' LB Sean Lee said about Bryant taking scout team snaps (via NFL.com): "He did a great job. He has that unbelievable athleticism very similar to Michael Vick. The surprising thing about Dez though, he also has a great arm; he can throw the ball 60 yards. So he was running around giving us a great look and that's something we're going to use on Sunday."
You can run through the entire Eagles offensive playbook in practice, work vs. their red zone routes and watch hours of film, but no matter what you do throughout the week, nothing can prep you for Vick's skill set.
I give the Cowboys credit for tyring out Bryant. I really do. But even with the atheltic ability of the Cowboys' WR, it still isn't the same when Vick breaks contain on game day.
Follow me on Twitter: MattBowen41