February 27, 2012 -
Matt Bowen
How high will Floyd and Hill climb on draft boards?
Agree or not with the hype surrounding 40 times, it is still a valuable tool when grading out the WR position. And at the NFL Combine, posting a solid time will boost a prospect's stock and move him up the draft board heading into the Pro Day circuit this March.
It's pretty simple when looking at WRs: the NFL wants to see them run.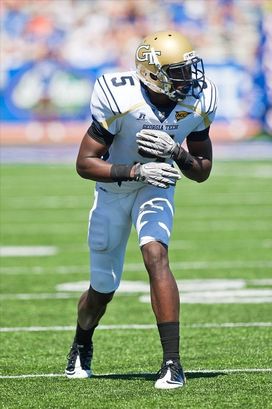 ICONGeorgia Tech's Stephen Hill posted a 4.36 40-yard dash in his NFL Combine workout.
And after Sunday's workouts in Indy, the two names we should be talking about are Notre Dame's Michael Floyd and Georgia Tech's Stephen Hill. Size and speed that was on display for the entire league to see.
Here are the numbers (with official 40 times):
Floyd: 6-3, 220, 4.47
Hill: 6-4, 215, 4.36
That's going to sell to multiple teams that are looking for a size/speed player outside of the numbers to run deep inside breaking concepts (skinny post, deep curl, 15-yard dig, seam) and to stretch the top of the secondary (fade, corner, double-move). Exactly what you want in your offense when working vs. a deep half safety in Cover 2 or throwing the fade vs. man-coverage out in the field and inside of the 10-yard line.
The question now: how high do both prospects rise on team draft boards?
Floyd had a first round grade going into the Combine this weekend and that 40 time answered some questions for scouts about his ability to separate down the field. He has the overall skill set that you want in a rookie WR and working out in Indy could make Floyd a Top 20 pick.
With Hill, this is a different discussion. He played in a Triple Option offense at Georgia Tech and needs to develop his route running skills. But as the NFP's Wes Bunting wrote on Sunday, the size at the position—along with sub 4.4 top end speed—might have moved Hill into the later stages of the first round.
Again, we are talking about numbers—not game tape. The top scouts and personnel men in the NFL will take these 40 times and see if it reflects on the tape. This is part of the process when breaking down WRs.
However, the NFL is still about speed at the skill positions. And after those 40 times we saw from both Floyd and Hill on Sunday, expect their stock to rise.
Follow me on Twitter: @MattBowen41