March 23, 2011 -
Matt Bowen
How high will Kolb's value get before the draft?
We shouldn't be surprised that the offseason value of Kevin Kolb is starting to rise. As I wrote on Tuesday, teams are split when it comes to grading the overall skill set of the Eagles' backup QB, but with so many clubs is need of a No.1 at the position, he becomes a real option.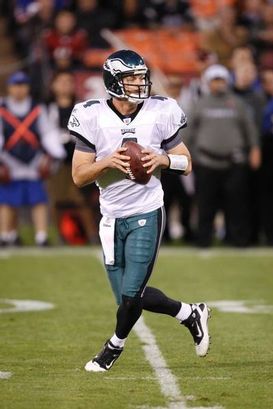 ICONExpect Kolb's value to rise as we closer to the NFL Draft in late April.
According to CSNPhilly.com, the Cardinals are one of those teams showing strong interest. Makes sense when you look at the current depth chart out in Arizona, because their isn't a name on that roster that is going to force opposing defensive coordinators to alter their game plans.
Add in Larry Fitzgerald (the unquestioned top WR in the league from my perspective), and you have a situation where you have to bring in a QB that can produce. An opening day starter.
The issue, however, is the NFL lockout. Players can't be traded without a new CBA in place (only draft picks) and that makes Kolb untouchable at the moment.
But if we do see a labor resolution before the draft, then we will start to talk about the Cardinals making a play for the Philly QB. Would it take the No.5 pick overall? That is a high price to pay for a player that hasn't established himself completely in the NFL. Sure, he has game tape, starting experience and talent—but we aren't talking about a Pro Bowl player at the position.
The draft class has more questions than answers with Cam Newton, Blaine Gabbert, Ryan Mallett, etc. And because of that Kolb's value will begin to rise even more. He is the "pro style" QB everyone wants after working under Andy Reid. Does he become over-valued? Possibly, but the supply and demand of the position warrant this.
As one NFL scout told me when we discussed Kolb: "Quarterbacks give you hope, and you can't win in this league without one."
Remember that comment, because if Kolb is traded before the draft, or after (for 2012 picks), we could see Reid and the Eagles walk away with a steal when it comes to the value they get in return.
Follow me on Twitter: MattBowen41