August 22, 2012 -
Matt Bowen
How I will remember Clinton Portis
Clinton Portis rushed for almost 10,000-yards and 75 TDs in the NFL. That's legit production and sign of longevity in a league that eats up players at the RB position.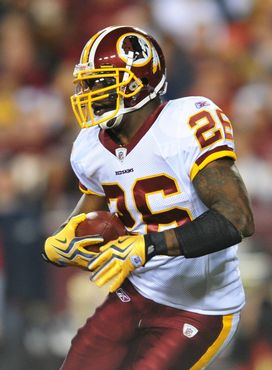 US PRESSWIREPortis rushed for almost 10,000-yards in his career, but I will remember him for the toughness he displayed on the field.
But I won't remember C.P. based on numbers after he announced he will retire from the NFL this Thursday. Nope. Instead, I will look back on a teammate that was one of the toughest guys I ever played with.
I spent two seasons with Portis in Washington after we traded away CB Champ Bailey to bring in the RB. The ideal player for Joe Gibbs' offense. He ran hard, finished plays, picked up blitzes, blocked down the field and put our team on his back when we won five straight to get in the playoffs in the '05 season.
C.P. had the vertical speed you want to see in a RB along with great vision, lateral ability and sweet feet in the hole.
However, I still think about the toughness he displayed every time our offense wanted to run the football.
Sure, his weekly press conferences (and costumes) in the hallway next to the weight room at Redskins Park were pure entertainment. Those were classic.
But when you talk about Portis, don't forget that he played the game extremely hard. That's something everyone can respect.
Follow me on Twitter: @MattBowen41