December 31, 2012 -
Matt Bowen
How impressive is Alfred Morris?
I'm impressed with the play of Alfred Morris. You should be too. Heck, who isn't talking about the rookie after he rushed for 200-yards and 3 TDs in the Redskins 28-18 victory over the Cowboys?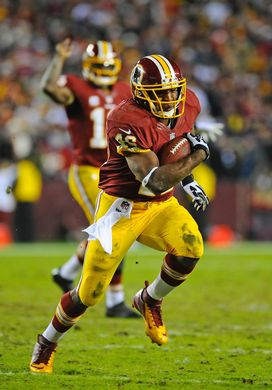 US PRESSWIREMorris rushed for 200-yards and 3 TDs in the Redskins' 28-18 win over the Cowboys.
During a win that gave the Redskins their first NFC East title since the 1999 season (and guaranteed a home playoff game this Sunday), Morris played like an established vet.
Sure, the schemes are unique in Kyle Shanahan's offense. I get that. And it's also easy to reference the Pistol formation, the Read Option, etc. when talking about this Redskins' team with QB Robert Griffin III running the show.
But regardless of the playbook, that game was more about the talent of the sixth-round pick out of FAU. Look at Morris' vision, the balance, the ability to run with a low pad level and drive his legs on contact.
That's a skill set we can apply to any offense and the majority of his production came in a classic zone-based run scheme vs. Dallas last night. Get downhill, find a running lane, cutback and burst to the second level of the defense.
I have talked about my former teammate Clinton Portis often here at the NFP because I loved the style he brought to the stadium. And in 2005 when we went on a five game run to get into the post season dance under head coach Joe Gibbs, it was all about Portis. A physical back that could carry the game plan, move the sticks and respond time after time in crucial situations. If we needed a play, C.P. would respond.
Portis was one of the toughest players I've even been around at the pro level. That's the truth.
And up until last night, Portis held the Redskins' record for rushing in a single-season (1,516-yards). Well, there is a new record now (1,613-yards) because of Morris. Not bad for a rookie, right?
I understand Griffin is the key to how the Redskins' set their game plans. But after watching Morris run vs. the Cowboys—and throughout this season—let's give the rookie RB the credit he deserves.
He carried that team last night--just like Portis did back in the day.