March 04, 2012 -
Matt Bowen
How much stock goes into Combine interviews?
If you haven't had a chance to read Dan Pompei's Sunday Blitz here at the NFP, I recommend checking it out. Plenty to get into with his news and notes from around the league, plus Pompei's inside look at the player interviews during this year's NFL Combine.
Leading up to the Combine, I talked about the top prospects, 40-yard dash, the overall stress of the workouts, etc. As someone who has been through the process, I understand the grind these players go through during their stay in Indy.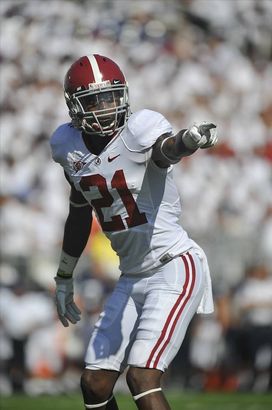 ICONAlabama's Dre Kirkpatrick.
However, another key aspect for these rookie hopefuls (regardless of their draft grade) is to sit down and answer questions in front of GMs, head coaches and scouts. And if you have any "red flags," coming clean is the best thing you can do.
Talk to anyone in the NFL and they will tell you the same thing: act professional throughout the interview process in Indianapolis. And if they ask you a tough question, give a mature response.
After that, allow your workout and game film to take care of the rest.
Not surprising to read Pompei's piece and see Robert Griffin III, Andrew Luck, Harrison Smith, Fletcher Cox and others handle the interview process like pros.
But what about the prospects such as Michael Floyd and Dre Kirkpatrick that didn't have their best interviews according to Pompei's sources? Two solid players that have first round grades when you break down their skill sets.
Talking with former Bears Director of College Scouting and NFP writer Greg Gabriel, these interviews carry a lot of weight. As Gabriel has written before: "In the past I have seen many players rise or fall on a club's draft board based on the impression he has left in that interview."
And when Gabriel was working in the NFL, all of the interviews were taped so scouts could go back and review them.
I think this is a very interesting discussion due to the amount of hype that is placed on the workouts in Indianapolis. And I'm guilty of that as well when looking at talent first and foremost.
Let's see how this plays out moving forward through the Pro Day circuit and the rest of the draft process. Because if we see a prospect with first round talent start to slide, maybe these interviews carry much more weight than we may want to believe.
Follow me on Twitter: @MattBowen41