December 16, 2011 -
Matt Bowen
How the Falcons targeted Julio Jones vs. the Jags
Click here for the entire Inside the Playbook series.
I want to go back to last night's Jags-Falcons matchup in Atlanta and look at a route scheme (Hi-Lo Opposite) that can beat Cover 1 (man-free) consistently. A key for QB Matt Ryan and the Falcons' offense when they want to get the ball in the hands of rookie Julio Jones with open field to work with.
Let's take a look at the Falcons' route concept from their pre-snap alignment, talk coaching points and discuss why Jones was able to convert a short throw into a 29-yard TD.
Jags vs. Falcons
Personnel: Posse (3 WR, 1 TE, 1 RB)
Route: Hi-Lo Opposite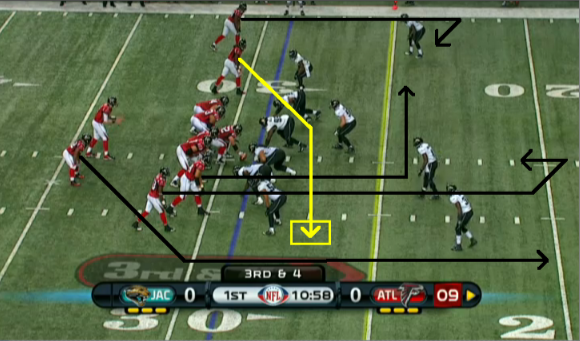 Quick coaching points…
Splits and Alignment: The Falcons have created a bunch to the closed (strong) side of the formation with the RB in a "chowed" alignment (outside leg of the tackle). When you add in Jones with a reduced split (inside of the numbers) to the open (weak) side of the formation, this has to tell you to play for inside breaking routes from a defensive perspective. As I have said before, always check the splits and alignments of the receivers when you break the huddle—they tell you what to play for.
Route concept: Very similar to the red zone route I broke down after the Browns-Steelers matchup last week (Hi-Lo Crossers) and a concept we see on a regular basis on Sundays in the NFL. Ryan will read high (TE Tony Gonzalez) to low (Jones) on two inside breaking routes from opposite sides of the field (Hi-Lo Opposite). The Falcons do release the RB on the "wheel" route to give Ryan a vertical option within the scheme, but the primary reads are the underneath concepts.
Cover 1 beater: Think from a defensive perspective here in man-free coverage. You are coached to play with an outside shade and funnel receivers to your safety help in the middle of the field. However, with Jones working away from the defender's leverage (plus the natural "pick" situation of any Hi-Lo concept), the Falcons' WR will give Ryan an easy target working back to the middle of the field. Pick up the first down and move the sticks.
Why this turns into an explosive play: Speed and angles. This route is designed to pick up a first down, but when you add in poor defensive angles from the middle of the field (plus the unique open field acceleration of Jones), it is time to strike up the band and play the fight song. And the Falcons are consistently finding ways to target the rookie WR in the passing game.
Follow me on Twitter: @MattBowen41