August 25, 2010 -
Matt Bowen
How the loss of Rice will impact the Vikings
Let's talk about the impact of Sidney Rice's injury on the Minnesota Vikings. After his reported surgery, the WR is expected to miss half of the regular season. The WR had 83 receptions, 1,312-yards and 8 TDs in '09. Pro Bowl numbers that are now in the training room. Yes, the Vikings and QB Brett Favre will still run the west coast system under Brad Childress, but when we take a step back and look at this offense without Rice — and without Percy Harvin at the moment — they are much easier to prepare for.
Think about it this way. When Rice and Harvin are on the field, this offense can run the ball with Adrian Peterson, use play action to get the ball vertically down the field, and align in their 311 personnel (3 WR, 1 RB, 1 TE) where Favre has multiple options.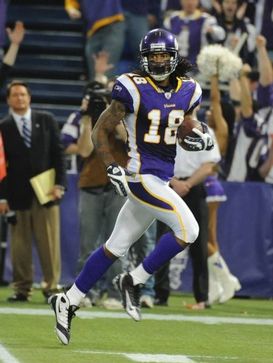 ICONDo the Vikings have any options to replace Rice's production in their offense?
But, as of today, they look very different as a team offensively. We know Peterson is still a player you have to prepare for — from the fundamentals of tackling to how you fit in the run front. But with Harvin still out (and with Rice already on the shelf), it becomes easier from a scheme perspective to prepare for this team.
Forget 7-man fronts and playing Cover 2 in the back end. Instead, drop that SS down into the box, use Cover 1, Cover 3, Under 10 (weak side man-to-man), etc., and take your chances on the outside with WR Bernard Berrian. Play that free safety as a true deep middle of the field player that can drive on the throw and get over the top of any vertical route, plus overalp TE Visanthe Shiancoe between the hashes.
Don't let A.P. beat you. Instead, put the ball in Favre's hands and let him challenge you down the field — which he will. Make a play on the ball and get off of the field. That is how coaches prepare for Sundays. Create a game plan that wins matchups. The rest of the time—just play football.
Berrian is a solid NFL WR, but I don't know what type of impact he will have when he is the No. 1 guy—without help around him. He is strictly a player that can produce outside of the numbers. The Vikings signed Javon Walker, and it is anybody's guess right now when we talk about what type of role he can have at this stage of his career, but the team signed him for a reason. They want to see what he can provide.
Other than that? There isn't much to talk about until Minnesota can get Harvin back on the field, into football shape and back into the slot — where he belongs. That will help change the dynamic of this offense, but is it enough without Rice?
Like we talked about above, the Vikings are not going to change as a team when we discuss the type of offense they run. It's too late for that. Instead, they will plug in bodies and go to work. However, what we will notice is how opposing defenses line up and play the Vikings—because Favre's No.1 option at WR is now out of the lineup. Who is going to replace that production?
It is a good question.
Follow me on Twitter: MattBowen41
Click here to purchase the Total Access Pass/ Fantasy Draft Guide from the NFP.