June 04, 2012 -
Matt Bowen
How to attack Cover 2 from a 3×1 alignment
Click here for the entire Inside the Playbook series.
The two route concepts we consistently see in the NFL to target the top of Cover 2 (or Tampa 2) are Flat-7 and 4 Verticals. Today, let's take a look at one more vertical concept out of a 3x1 alignment that puts stress on the open (weak) side FS in the 2-deep zone coverage: "999."
Check out the route drawn up on the chalkboard and then we will get into some coaching points to breakdown the play…
Personnel: Posse (3 WR-1 TE-1 RB)
Formation: "Doubles Slot"
Route concept: "999"
Defensive scheme: Cover 2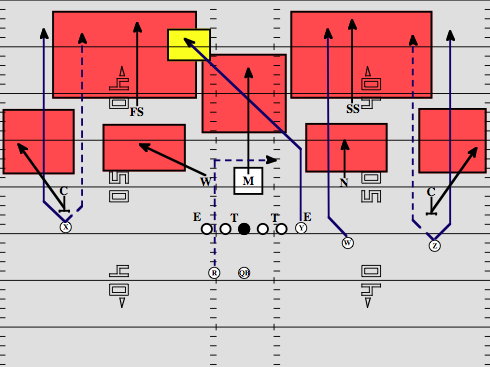 Route breakdown: Wide, vertical release from both No.1 WRs (X, Z) to run the clear out 9 (fade) route with the slot receiver (W) taking an inside stem and pushing up the field on the seam route. That leaves the TE (Y) running the post route to the opposite hash mark to create a 2-on-1 vs. the FS and Mike Backer. A simple way to run (and disguise) 4 Verts out of a 3x1 alignment.
Outside release (X and Z): This is key to the route. CBs in Cover 2 are coached up to force an inside release (drawn up with the dashed lines) to take stress off the safeties in the deep half. However, from an offensive perspective, winning at the line of scrimmage and getting that hard, outside release will force the SS and FS to widen off of their landmarks (top of the numbers). And that creates room to run the inside concepts.
Attacking the FS: The FS is going to read the release of No.1 (X). A hard, outside release equals one of two routes: fade or comeback. Now, he has to get his eyes back to the QB (and look front side) in his deep half drop. With the Mike carrying W on the inside vertical seam, the FS has to drive on the Y to make the play. However, if he does widen his release to play over the top of X, this is a throw an NFL QB will make almost every time. The FS has to stay square in his drop. Not an easy technique vs. two verticals.
Follow me on Twitter: @MattBowen41