August 01, 2011 -
Matt Bowen
How to grade rookies in NFL training camps
With training camps in the NFL picking up the pace this week (and full gear sessions going down), let's talk about what to look for from the rookies during practice. Five things to keep an eye on—based off of NFL coaching—in order to grade these first-year players as they attempt to transition to the pro level.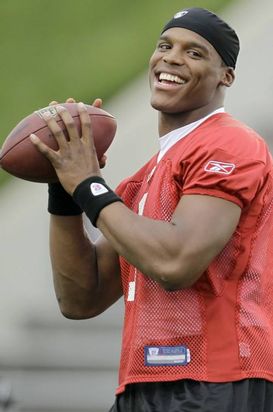 Rookies like Cam Newton have a long camp in front of them as they transition to the NFL.
1. Conditioning: Can they keep up? With no offseason, these rooks are getting their first taste of the speed of the NFL—and that just isn't on the field. The pace of practice is quicker, individual drills flow into competitive periods and we will see some young players fall out—ending up under the "heat tent" on the sideline. In Washington, we used to condition at the beginning of practice (up-downs in full gear, gassers, etc.) to see if we could make it through practice. This will be a rough week for rookies if they can't handle the speed, heat and hitting of camp. And it will show in their play vs. the veterans.
2. Alignment and adjustments: Life as a rookie would be great if you saw base personnel on the field at all times. Line up in Cover 3 vs. Regular personnel (2 WR, 1 TE, 1 RB) on defense and play football. But that isn't reality in the NFL. Look for this: pre-snap movement. Why? Because that forces players on both sides of the ball to adjust. Can the rookies make the checks and get through the play? I tell young guys all the time to stay up all night studying for a simple reason: you would rather be tired and know how to line up. And if you can't adjust, there is no way to show the coaching staff (and the veterans) that you belong on the roster.
3. Technique vs. overall skill: Rookies are going to get beat—routinely—this week. But let's pay attention to why they are getting beat. Is it a case of poor technique or are they overmatched by NFL talent? Bad footwork, hands and eyes get you beat at any level of football—and the NFL is no different. Pay attention to one-on-one periods, because that is where technique is king. You can coach up sloppy play if it comes down to working on a player's stance, initial step, etc. But if they don't have the speed, size and talent to play, that can't be fixed.
4. Bouncing back: This is key—especially for QBs. Don't expect Cam Newton, Jake Locker, Christian Ponder, Andy Dalton, etc. to light it up this week. In fact, you can live with rookies making mistakes if they are practicing hard. This provides great opportunities to get in the film room and make the corrections. QB throws three INTs at practice? That's not an issue—if they can bounce back and avoid the same mistake again. Remember, this is practice. Don't buy into media "reports" that a rookie isn't ready because of a bad day in camp. Want an example? My former teammate, the late Sean Taylor, was the most impressive rookie I ever saw in training camp—and he made mistakes early.
5. Special teams drills: I have mentioned this before at the NFP and I will do it again, because this is how the majority of the rookie class will make the roster. Watch the drills. Can they get to top speed and change direction? Who is showing something at the "gunner" position on punt? Are they physical in block and shed drills when the pads are on? And (most importantly) can they get down the field, break down and make a tackle? Most rookies aren't opening day starters, so this is where they will make their impact early in the 2011 season.
Follow me on Twitter: MattBowen41