November 19, 2012 -
Matt Bowen
How will Gronkowski's injury impact the Patriots?
With the injury to Rob Gronkowski (broken arm) that will keep the TE out of the lineup for a reported 4-6 weeks, I'm looking at the impact of matchups in the Patriots game plan.
Earlier this season, I broke down one of the Patriots top route schemes on the chalkboard after talking to some NFL coaches. An inside Hi-Lo combination with the open (weak) side seam. Here is the playbook diagram…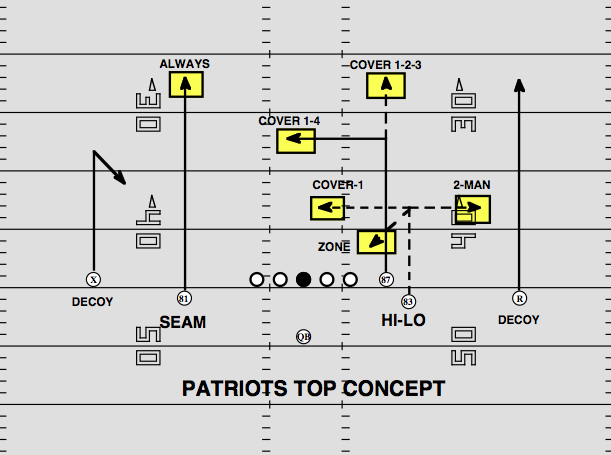 What do we see here? Middle of the field throws that convert based on the defensive scheme. And what the Patriots want to do is feature three players within this concept: Gronkowski, Welker and Hernandez. Sure, New England will vary alignments to give the defense a new look at the line of scrimmage, but QB Tom Brady wants to throw the ball between the numbers.
The scheme won't change due to an injury. If you watch enough tape, this route will continue to show up for the Patriots. Bring another TE onto the field or roll Posse personnel (3WR-1TE-1RB) into the game. There is always a way to supplement an injury (and continue to score points) based on the personnel in the huddle. And that's exactly what the Patriots have been doing without Hernandez (as we saw on Sunday in the win over the Colts).
However, I don't see how you replace the matchup ability that Gronkowski brings to the stadium. Think of the intermediate dig route (square-in) where the TE can create leverage on the break or the inside vertical seam vs. Cover 2 and Cover 1. Plus, we can't forget about the 7 (corner) route in the red zone. Basic route schemes that are a nightmare for a safety/LB in coverage because of Gronkowski's skill set, size and length.
New England takes the field again in three day on Thanksgiving night when they travel to play the Jets in New York. Let's keep an eye on the personnel the Patriots use and where Tom Brady wants to go with the football. That will give us a good idea of how much the injury to Gronkowski has impacted the New England game plan.
Follow me on Twitter: @MattBowen41