September 22, 2012 -
Matt Bowen
How will Manning, Denver game plan for Houston?
Looking at the matchups on the Week 3 Sunday schedule, I'm really interested to see the Broncos' offensive game plan when they host the Texans in Denver. Peyton Manning vs. one of the top overall defensive units in the NFL.
A couple of things to think about here as we get closer to kickoff…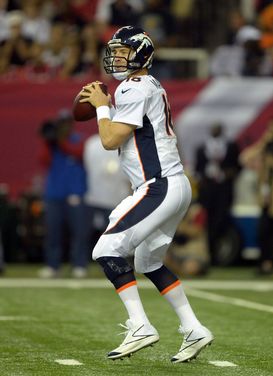 US PRESSWIREWill Manning lean on the short to intermediate route tree vs. the Texans?
- Before we get to the Broncos, I was looking at the tape from the Texans win over the Jags and one thing stands out: the QB better get rid of the football. DE J.J. Watt was impressive on the tape and Houston can generate 4-man pressure in passing situations. In the secondary, a mix of coverage and pressure (both zone and man). And when there is pressure up front, DBs can play more aggressively, sit on routes and drive downhill. Jags' QB Blaine Gabbert didn't stand a chance vs. Wade Phillips' unit. They are coached well and they play with speed.
- We all know Manning struggled vs. the Falcons in the Monday night loss. I broke down his third pick of the night against Atlanta's Cover 3 shell and there where other situations when the QB forced the ball. Was it the pre-snap alignment of the Falcons? Did Manning mis-read the drop of the deep middle of the field safety? And why the inside vertical concepts? I expect the mistakes to be corrected and for Manning to play a much cleaner game on Sunday.
- Going back to the tape of the Broncos' Week 1 win over the Steelers, Manning threw two deep balls the entire night (9 routes). The Denver QB worked the "Levels" concept, the Hi-Lo, the "Semi-Series" (Seam-Hitch, Seam-Curl, Seam-Comeback, etc.), "Tunnel" screen and threw the short-to-intermediate route tree. That's when I see Manning at his best. In the no-huddle when he can bleed defenses up and down the field.
- The TE position. I like what the Broncos have with Thomas, Decker and Stokley at the WR position because they fit the Broncos' route tree. But getting the ball to Jacob Tamme is big vs. a pressure defense. Think of the "hot" reads, the option route, the intermediate dig, etc. Inside breaking concepts that give Manning a quick, easy throw to unload the ball.
- Don't forget about the Broncos' running game and Willis McGahee. I know we can say this about every Sunday matchup, but you won't win many games when you are stuck in 3rd and 7-plus situations as an offense. And 3rd and long vs. Houston equals trouble. One-back runs in early down and distance situaitons can set Manning up with multiple options when you are looking at 3rd and 2-6.
Follow me on Twitter: @MattBowen41