May 04, 2012 -
Matt Bowen
How will Suggs' injury impact the Ravens?
There should be some concern in Baltimore right now after news broke on Thursday that Terrell Suggs went down with a (partially) torn Achilles tendon during a workout. Not what you want to hear about 2011 Defensive Player of the Year.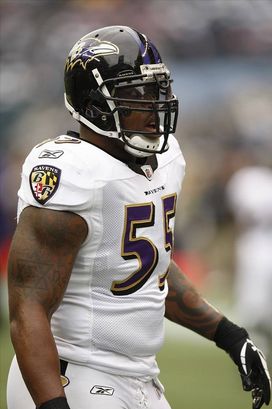 ICONThe Ravens could be without Terrell Suggs for the 2012 season.
The OLB said he hopes to return this season, but after playing with guys in this league that experienced the same injury (and seeing their long rehab process), that will be tough to pull off. Hard to come back quickly with that explosive power we are accustomed to seeing with Suggs.
What's next? You move on as a football team and find a replacement on the roster. A backup that can step in. But can you really replace Suggs' production? That's the question for the Ravens.
Elite talents in the NFL—like Suggs—doesn't exist on the free agent market and they aren't walking the streets looking for an NFL gig. And when we break down Suggs in the Ravens 3-4 front (plus the pressure he consistently applies in the defensive sub packages), he is a vital part to the success of the Ravens defense.
Think about scheme and game plan with Suggs. Yes, the Ravens are often viewed as a pressure-oriented football team on the defensive side of the ball. Multiple looks, overload pressure fronts, etc. I get that. But let's not forget what Suggs can allow you to do from a secondary perspective when you want to play coverage (2-Man, Cover 2). You can rush four when he is beating up offensive tackles and forcing the ball to come out.
That gives you flexibility as a defensive play caller and it doesn't force you to hang CBs out to dry all afternoon if the blitz doesn't get home. That's a luxury. Just ask any defensive back. It's nice when you can sit in coverage and let the big boys up front go to work.
Maybe the Ravens can get some production out of Sergio Kindle or Paul Kruger. And the club also just drafted Courtney Upshaw out of Alabama. Those may be options on the roster.
But again, we are talking about replacing one of the top overall defensive talents in this league. And that's why I'm interested in this on multiple levels, because Suggs is a true impact player.
Follow me on Twitter: @MattBowen41